Blat z kamienia – gatunki kamienia
Gatunków kamienia jest wiele, niekażdy niestety sprawdzi się w roli blatu.
Granit – to najchętniej wybierany materiał do blatów z kamienia. Nic dziwnego – wyróżnia się on najwyższą twardością, doskonałą odpornością na zarysowania czy uszkodzenia mechaniczne. Do tego niestraszne mu wysokie temperatury ani kontakt z wodą. Odporny jest również na działanie chemikaliów oraz środków spożywczych. Jego nieco wyższa cena poparta jest szeregiem walorów, które sprawiają, że blat z kamienia najlepiej wykonywać właśnie z granitu.
Bazalt i porfir – polecane na blat z kamienia do kuchni ze względu na odporność na zaplamienia.
Trawertyn czy marmur – to warianty równie eleganckie, jednak mniej bezpieczne, ponieważ podatne są na zaplamienia i nasiąkanie wodą. Jeśli decydujemy się na wykonanie blatu z kamienia z tych materiałów musimy pamiętać o specjalnych zabezpieczeniach i impregnacji.
Blat z kamienia – wykończenie
Polerowany blat z kamienia – chętnie wybierany ze względu na łatwość utrzymania go w czystości.
Szczotkowany blat z kamienia – charakteryzujący się matową i lekką nierówną powierzchnią.
Matowy bądź całkiem surowy blat z kamienia – modny i często wykorzystywany, sprawdza się świetnie szczególnie w nowoczesnych wnętrzach.
Także kształt naszego blatu z kamienia zależny jest od naszej woli. Najnowsze technologie pozwalają bowiem nadawać kamieniowi dowolną  formę. Wszystko po to, by blat z kamienia idealnie wkomponował się w wystrój i styl wnętrza, stanowiąc jego piękne, oryginalne zwieńczenie.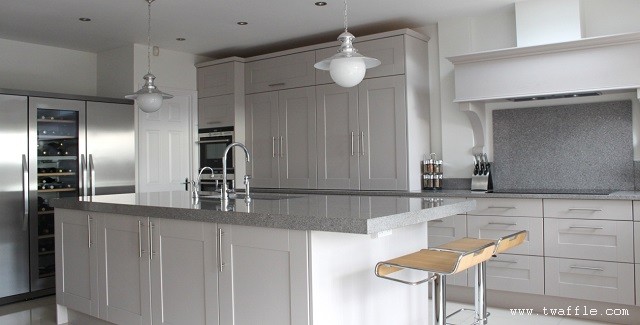 Blat z kamienia – zalety
Ekskluzywny wygląd – blat z kamienia zachwycać będzie nas estetycznym, ale i wyrafinowanym wyglądem.
Ponadczasowość i uniwersalność – blat z kamienia będzie świetnie wyglądał w każdym wnętrzu, niezależnie od jego stylu. Ponadto to wiecznie modny element wykończenia.
Naturalność – kamień to materiał naturalny i ekologiczny, a co za tym idzie – bezpieczny.
Bogata kolorystyka – możemy wybierać z szerokiej palety odcieni: począwszy od czerni i szarości, przez zielenie czy błękity, na beżach kończąc.
Trwałość – blat z kamienia to świetna inwestycja na lata, jest on prawie niezniszczalny, niezwykle trwały i twardy.
Odporność – kamień jest odporny zarówno na ścieranie czy zarysowania, jak i wilgoć oraz warunki atmosferyczne, ponadto długo się nagrzewa i jest niepalny. (Granit dodatkowo jest odporny na działanie środków chemicznych i nie wchłania tłuszczów).
Blat z kamienia – wady
Cena – główny minus; blat z kamienia to jedno z droższych rozwiązań, bowiem kamień jest materiałem kosztownym.
Ciężar – waga blatu z kamienia może być problematyczna z dwóch względów: po pierwsze nasze szafki muszą być na tyle wytrzymałe, żeby ciężar kamienia utrzymać, po drugie – montaż tak ciężkiego materiału nie należy do najprostszych.
Montaż – montaż blatu z kamienna jest kwestią kłopotliwą też z innych powodów: zabiera dużo czasu, wymaga użycia specjalistycznych narzędzi, więc najlepiej zdać się na pomoc fachowca.
Kłopotliwe gatunki – jak już wspominaliśmy, niektóre gatunki jak np. marmur wymagają specjalnej troski i impregnacji, inaczej zamiast zachwycać walorami wizualnymi, będą irytowały nas plamami i przebarwieniami.
Chłód – kamień jest materiałem chłodnym, dlatego też chłodny w dotyku i odbiorze będzie nasz blat z kamienia.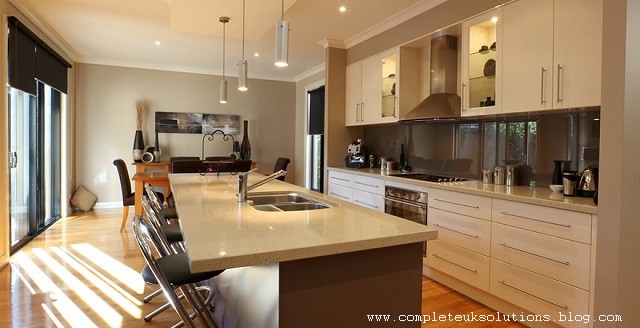 Blat z kamienia – pielęgnacja
Nawet materiał tak odporny jak kamień nie poradzi sobie bez odpowiedniej impregnacji i pielęgnacji. Aby nasz blat z kamienia był bardziej odporny na plamy oraz wnikanie brudu czy wilgoci, poleca się zabezpieczyć go odpowiednim impregnatem. Taka ochronna warstwa ma dodatkową zaletę – ułatwi utrzymywanie blatu w czystości.
Do codzienna pielęgnacji blatu z kamienia wystarczy woda. W przypadku czyszczenia plam, np. z tłuszczu, należy wykorzystywać łagodne detergenty przeznaczone specjalnie do tego rodzaju powierzchni.