Blaty z marmuru są wizytówką kuchni. Ich charakterystyczną cechą jest piękne użylenie, a także niemal biały kolor niektórych rodzajów marmuru, który dla wielu osób jest ich największą ozdobą. Jasny marmur Calacatta, Carrara czy Bianco Neve bardzo dobrze komponują się z większością kuchennych aranżacji. Jednak ze względów praktycznych wielu ekspertów odradza wybór marmuru do kuchni, sugerując w jego miejsce granit czy łupki. Granit rzeczywiście ma bardzo dobre parametry fizyczne i mechaniczne, które czynią z niego jeden z najlepszych materiałów na blaty kuchenne. W porównaniu z nim wiele kamieni, jak i innych tworzyw wypada niekorzystnie. Czy jednak oznacza to, że marmur nie może zostać użyty w kuchni? Jakie argumenty przemawiają przeciw niemu?
Marmur jest kamieniem nasiąkliwym i podatnym na powstawanie plam – nasiąkliwość to zdolność kamienia do wchłaniania wody. Marmur, w porównaniu do granitu czy twardych piaskowców, wykazuje dużą absorpcję cieczy. Ta cecha sprawia, że jest on bardziej podatny na powstawanie plam i przebarwień. Z tego względu jest odradzany, jako materiał na blaty kuchenne narażone na częsty kontakt z rozlaną wodą, winem, kawą i innymi cieczami, które mogą wnikać w jego powierzchnię i prowadzić do przebarwień.
Jednak można temu zapobiegać – regularna impregnacja z użyciem wysokiej jakości impregnatu zmniejsza absorpcję cieczy, a tym samym ryzyko powstawania przebarwień. Drugą kwestią, o której muszą pamiętać osoby kupujące marmurowy blat, jest konieczność szybkiego wycierania rozlanych płynów. Im dłużej ciecz oddziałuje na marmur, tym większe ryzyko powstania trwałych przebarwień. Kawa, który zostanie natychmiast wytarta nie odbarwi nawet kamienia niezaimpregnowanego. Jeżeli natomiast zostawimy rozlany napój na dłużej (np. pół godziny), plama będzie widoczna także po wytarciu. Jednak po całkowitym wyschnięciu, ślad na zaimpregnowanym kamieniu często zupełnie znika lub blaknie (zależy to od rodzaju cieczy i czasu jej oddziaływania na blat).
Wniosek – marmurowy blat będzie mniej podatny na powstawanie przebarwień, jeżeli będzie regularnie impregnowany, a rozlane ciecze szybko wycierane. Nie jest on zatem zabroniony w kuchni, ale wymaga odpowiedniej, starannej pielęgnacji. Poważniejszym problemem są natomiast kwaśne substancje (np. sok z cytryny), które trwale uszkadzają poler marmuru i prowadzą do jego matowienia.
Marmur łatwo się ściera – marmur wykazuje większą ścieralność niż granit i inne twarde kamienia. Jednak ta cecha ma istotne znaczenie przede wszystkim podczas wyboru kamienia na posadzki, stopnie schodów, podjazdy i inne nawierzchnie narażone na ruch pieszy czy kołowy. Jeżeli po kilku latach na powierzchni marmuru pojawią się przetarcia, mogą zostać one usunięte przez kamieniarza.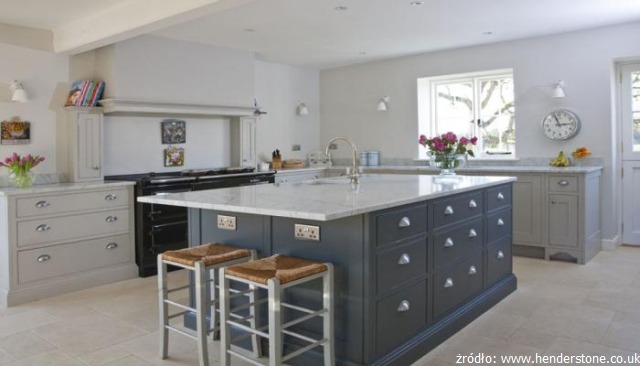 Marmur ulega zarysowaniom – marmur jest w znacznym stopniu zbudowany z kalcytu, który nadaje mu miękkość. Z tego powodu jest on podatny na uszkodzenia i zarysowania spowodowane przez twardsze materiały (których jest więcej niż tych, które mogłyby zarysować granit). Ostrze noża czy ciężkie naczynia mogą więć naruszyć powierzchnię marmuru. Można jednak temu zapobiegać stosując deski do krojenia zabezpieczone dodatkowo matami antypoślizgowymi oraz podkładki. Użytkownicy marmurowego blatu nie mogą zatem kroić bezpośrednio na nim, ale taka sama zasada dotyczy np. blatów laminowanych.
Polecamy: