Blaty z kamienia do łazienki – zalety

Wodoodporność (w tym odporność na osadzanie się nalotu z wody) – po odpowiedniej impregnacji materiału.
Zredukowana liczba spoin (mniejsze ryzyko przeciekania a także ograniczenie osadzania się brudu i bakterii) – najlepiej, kiedy blat wykonany jest z jednego kawałka kamienia. Redukuje to ilość łączeń.
Wytrzymałość na uderzenia
Wysoka klasa ścieralności
Ekologiczność
Bezpieczeństwo dla zdrowia
Szeroka paleta kolorów i faktur
Dowolność form i kształtów
Długowieczność
Optyczne powiększenie łazienki przy lustrzanej powierzchni blatu (polerowane wykończenie).

Blaty z kamienia do łazienki – rodzaje kamienia

Blaty z kamienia do łazienki – granit
Granit to jeden z najlepszych materiałów na blaty łazienkowe. Wśród powszechnie stosowanych kamieni jest on najbardziej wytrzymały, odporny na ścieranie oraz zarysowania. Granit charakteryzuje się wysoką odpornością na związki chemiczne, a także – co w łazience najistotniejsze – jest całkowicie wodoodporny (już przed impregnacją bądź żywicowaniem jego nasiąkliwość jest minimalna, natomiast po tych zabiegach – zerowa). Ponadto łatwo poddaje się obróbce i polerowaniu.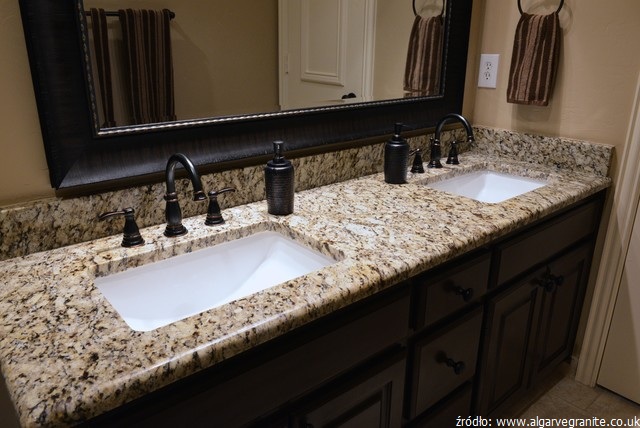 Ważną cechą blatów z granitu jest również odporność na uszkodzenia mechaniczne, o której podczas codziennego użytkowania w tym pomieszczeniu nietrudno.
Blaty z kamienia do łazienki – piaskowiec
Piaskowiec jest łatwo dostępnym materiałem a ponadto zachęca niewysoką, jak na kamień naturalny, ceną. Choć w stanie surowym odznacza się dużą nasiąkliwością i ścieralnością, po impregnacji lub żywicowaniu jego wodoodporność wzrasta. Wymaga jednak bardziej intensywnej pielęgnacji niż blat do łazienki wykonany z granitu.
​
Blaty z kamienia do łazienki – marmur
Marmurowe blaty z kamienia do łazienki nie będą już tak uniwersalne i niezniszczalne jak te granitowe. To materiał bardziej miękki i nasiąkliwy. Jednak nie można zapominać, że marmur wyróżnia się pod względem wizualnym, posiada bowiem unikalną paletę tekstur i barw o wysokich walorach dekoracyjnych. Ponadto jego miękkość pozwala nadawać blatom bardziej finezyjny kształt. Marmury muszą być jednak regularnie impregnowane, a preparaty impregnujące mogę pogłębić (czyli przyciemnić) ich kolor.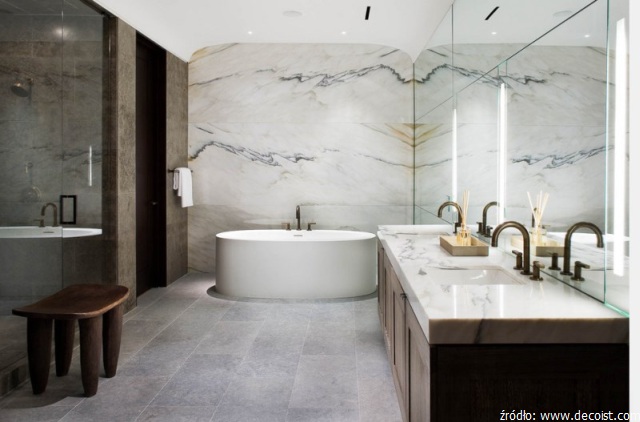 ​
Blaty z kamienia do łazienki – trawertyn
Trawertyn to kamień niezwykle piękny, ale nie jest rekomendowany jako materiał na blaty z kamienia do łazienki. Jego unikalna, trójwymiarowa powierzchnia w innym pomieszczeniu będzie zachwycać porami i bruzdami, w łazience jednak pochłaniać będzie tylko nieczystości. Do tego blaty z trawertynu są kruche i nieodporne na zarysowania oraz działanie związków chemicznych. Zamiast wzmacniać go żywicowaniem czy impregnacją lepiej będzie wykorzystać go w innej przestrzeni jako element dekoracyjny, nie zaś użytkowy.

Blaty z kamienia do łazienki – pielęgnacja
Kamień to materiał niezwykle odporny i wytrzymały, jednak, aby przez długie lata cieszyć się nim jak najpełniej, warto pamiętać o odpowiedniej pielęgnacji. Warstwa ochronna zapewniona dzięki impregnacji wzmocni odporność naszego blatu z kamienia do łazienki, dodatkowo ułatwiając jego czyszczenie.
Na co dzień kamień najlepiej jest czyścić wodą, a w przypadku poważniejszych zabrudzeń można korzystać z detergentów dedykowanych konkretnemu rodzajowi kamienia.
Polecamy:
​