Wnętrza urządzone w minimalistyczny stylu są proste i uniwersalne, a przy tym niezwykle estetyczne. Styl minimalistyczny kreuje przestrzeń, w której znaleźć możemy spokój i ukojenie. Nadaje się on do urządzenia każdej przestrzeni w naszym domu, zapewnia bowiem harmonię, ale i funkcjonalność.

Kamień łączy w sobie cechy charakterystyczne dla stylu minimalistycznego – surowość i stonowany wygląd. Jego uniwersalność i plastyczność, możliwość dowolnej obróbki a także wielość gatunków sprawia, że paleta jego zastosowań niemal się nie kończy. Ponadto kamień gwarantuje nienaganną estetykę i elegancję, a także cechuje się wysoką odpornością i wytrzymałością.
Kamienna posadzka
Duże kamienne płytki na posadzce to świetny pomysł do minimalistycznego salonu. Dzięki takiemu wykończeniu pokój dzienny będzie obdarzony surowym, naturalnym pięknem. Kamień na podłodze musi charakteryzować się podwyższoną wytrzymałością i odpornością na ścieranie. Płytki kamienne mogą mieć fazowaną krawędź i być układane z fugami, ale na rynku znajdziemy też rektyfikowane płytki do układania bezfugowego. Najlepsze gatunki kamienia do wykorzystania w formie posadzki to szlifowany granit. Dla naszego bezpieczeństwa dobrze stosować kamienie z wykończeniem antypoślizgowym. Na schodach warto zastosowań wykończenie takie same jak w przypadku podłogi. Da to spójny i harmonijny efekt, tworząc proste i wyrafinowane wnętrze.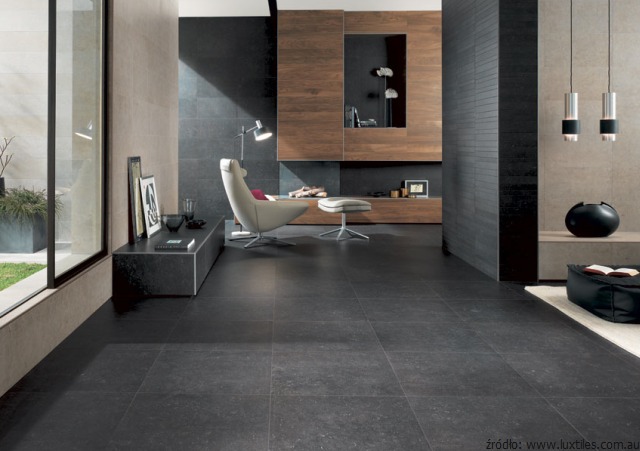 Kamień na ścianie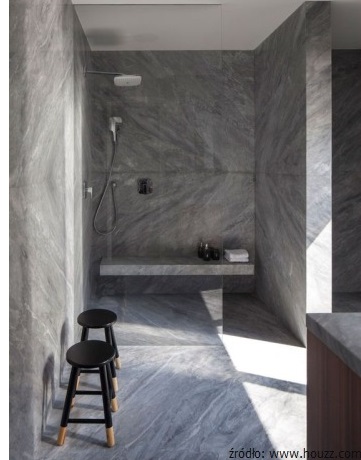 W nieco większych pomieszczeniach z powodzeniem możemy stosować kamień na całych połaciach ścian, ale nawet małe pokoje nie muszą być pozbawione tego dodatku. W niewielkich wnętrzach najlepiej stosować kamień jedynie na fragmentach ścian, aby nie przytłoczyć i nie zdominować aranżacji. Kamienne okładziny staną się wówczas oryginalną dekoracją, idealną do stylu minimalistycznego, który nie lubi wielu zdobień.
Kamień na ścianie poza kwestią estetyczną może służyć również praktycznie, stając się elementem wyznaczającym strefy pomieszczeń czy otwartych przestrzeni.
Na ścianie możemy wykorzystać niemal każdy gatunek kamienia, w tym miejscu parametry techniczne i odporność nie są bowiem najważniejsze. Sprawdzą się tutaj delikatniejsze kamienie, na przykład onyksy czy wapienie, których unikać musimy w przypadku podłóg czy blatów.
Urządzając wnętrze w minimalistycznym stylu ważny jest wybór odpowiedniego koloru kamienia.
Białe, szare i czarne rodzaje
są najlepiej wkomponują się w surową aranżację. Przykładem tego są
łupki
, których wygląd doskonale pasuje do minimalsitycznych wnętrz. Nie możemy zapominać też o odpowiednim wykończeniu – do wnętrz w stylu minimalistycznym poleca się szczotkowanie wydobywające naturalną fakturę kamienia lub satynowanie bądź piaskowanie, które sprawiają, że kamień jest stonowany i aksamitny.
Surowy, minimalistyczny klimat wnętrza podkreśli również kamienny fornir. Dzięki swojej niewielkiej wadze doskonale sprawdzi się w miejscach, w których ciężkie płytki nie mogą zostać wykorzystane, np. jako okleina mebli.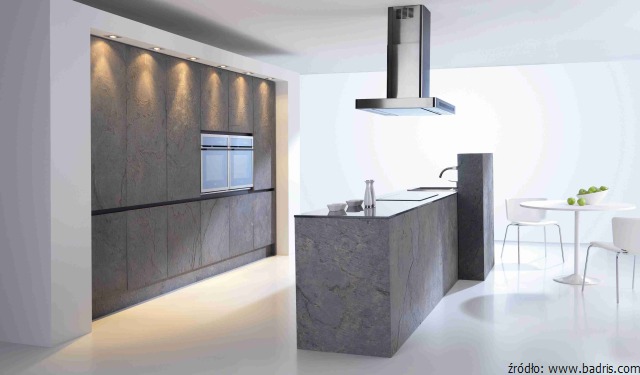 Minimalistyczna kuchnia
Kamień świetnie sprawdza się w przestrzeniach trudnych i wymagających, takich jak kuchnia. Jeżeli wykorzystamy gatunki kamienia odporne na zarysowania, plamy i wysokie temperatury, będzie on wdzięcznie służył nam przez lat.
Dobrym wyborem jest bazalt (kamień doskonały do minimalistycznych aranżacji), granit bądź konglomeraty, które w odróżnieniu od naturalnego kamienia, mogą mieć jednolitą barwę.
Z kamienia możemy wykonać kuchenne blaty, parapety, ale także zlewozmywaki – najlepiej podwieszane, które nie wystają ponad linię blatu. Zintegrowanie zlewu z blatem to rozwiązanie idealne do stylu minimalistycznego, który nie lubi dużej ilości sprzętów ani dodatków. Jednolita powierzchnia blatu będzie prostym, pięknym i funkcjonalnym elementem kuchni minimalistycznej.
Minimalsityczna łazienka
Kamień może gościć również w łazience urządzonej w minimalistycznym stylu. Doskonale w takiej aranżacji sprawdzą się okładziny ścienne i podłogowe wykonane z bazaltu, który nadaje wnętrzu surowego wyrazu.
Innym pomysłem jest montaż granitowego blatu, który posiada szereg atutów – jest najbardziej wytrzymałym z powszechnie stosowanych kamieni, do tego opiera się zarysowaniom, ścieraniu czy uszkodzeniom mechanicznym oraz – najważniejsze – dobrze znosi wilgoć. Mimo tych zalet nie wolno zapominać o jego właściwej pielęgnacji i regularnej impregnacji.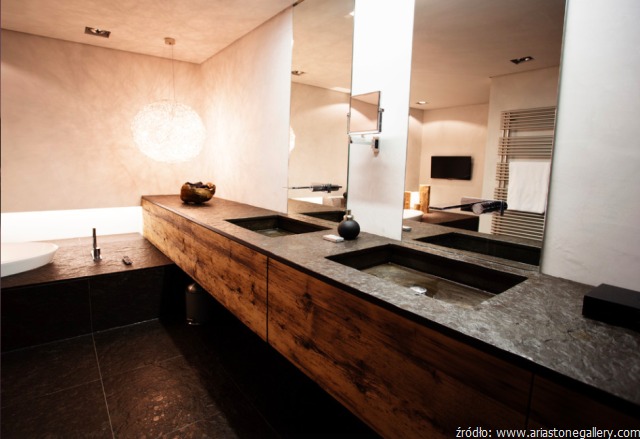 Polecamy: