Kamienne blaty łazienkowe na wymiar z luksusowego marmuru
Blaty łazienkowe na wymiar mogą zostać wykonane na bazie różnych materiałów. Obok kamienia naturalnego, sporym zainteresowaniem cieszą się także blaty drewniane, z laminatu i fornirowane. Kamień naturalny jest jednak zdecydowanie najczęściej wybieranym surowcem ze względu na swój naturalny charakter, wysokie walory wizualne oraz trwałość i solidność. Jest także na tyle uniwersalny pod względem estetycznym, że łatwo dopasować go do praktycznie dowolnej stylistyki łazienki. Wśród dostępnych w sprzedaży kamieni, dwa cieszą się największym zainteresowaniem – są to marmur i granit.
Blaty łazienkowe z marmuru to kwintesencja elegancji, luksusu i prestiżu. Jest to jeden z najbardziej cenionych kamieni naturalnych, który trudno pomylić z jakimkolwiek innym materiałem. Marmur posiada przy tym na tyle uniwersalny wygląd, że pięknie komponuje się z pozostałymi elementami aranżacyjnymi łazienki. Warto jednak mieć świadomość, że jest to kamień tak samo piękny, co wymagający w użytkowaniu. Jego głównym mankamentem jest wysoka nasiąkliwość, która sprawia, że blaty trzeba regularnie impregnować oraz czyścić od razu po pojawieniu się zabrudzeń. Podczas użytkowania należy obchodzić się z nimi z dużą ostrożnością, gdyż marmur łatwo zarysować lub uszkodzić mechanicznie.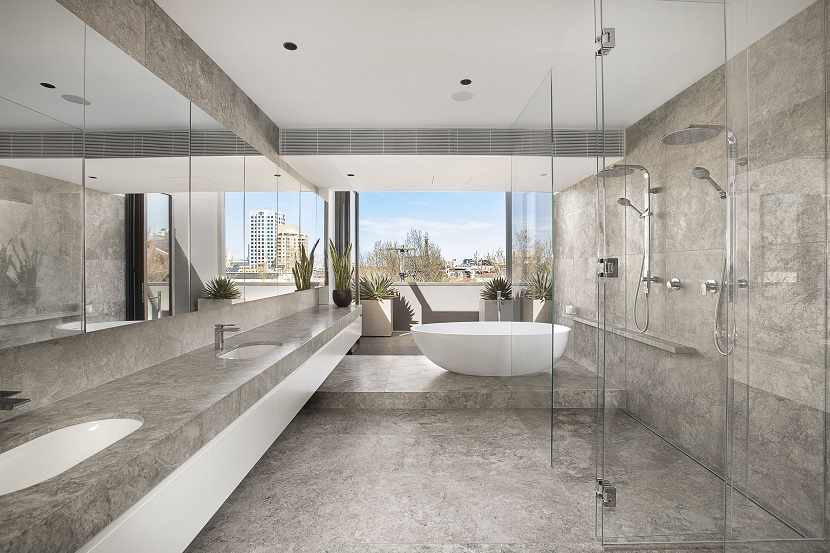 Blaty łazienkowe na wymiar z trwałego i uniwersalnego granitu
Z uwagi na dość dużą problematyczność, jaką sprawiają w użytkowaniu luksusowe blaty marmurowe, warto zainteresować się alternatywnym dla nich rozwiązaniem. Są nim blaty łazienkowe na wymiar wykonane z trwałego i solidnego granitu. Jest to jeden z najtwardszych kamieni występujących w przyrodzie, którego właściwości użytkowe czynią go zarazem jednym z najlepszych materiałów na powierzchnie robocze różnego rodzaju, w tym także na blaty łazienkowe.
Prawidłowo zaimpregnowany granit jest kamieniem o niskiej nasiąkliwości, nie chłonie więc wody, plam ani zabrudzeń. Jest odporny na działanie kwasów i zasad, ścieranie oraz uszkodzenia mechaniczne. Nie straszna mu także wilgoć ani zmienne temperatury, które często panują w łazience. Jest także kamieniem bardzo łatwym i mało problematycznym w pielęgnacji – wystarczy przetrzeć go ściereczką lub umyć przy użyciu delikatnego detergentu, aby nadać mu blask i skutecznie usunąć zabrudzenia. Co więcej, granitowe blaty łazienkowe na wymiar prezentują się klasycznie i nowocześnie zarazem, świetnie uzupełniają więc wystrój zarówno współczesnych, jak i klasycznie urządzonych łazienek.