Kamienny blat – granit, marmur czy konglomerat?
Najbardziej polecanym materiałem na blaty kuchenne jest granit. To twardy kamień odporny na zarysowania, działanie wysokich temperatur i inne uszkodzenia. Dodatkowo ma niską porowatość, dzięki czemu mniej chłonie płyny, a przez to łatwiej jest go utrzymać w czystości.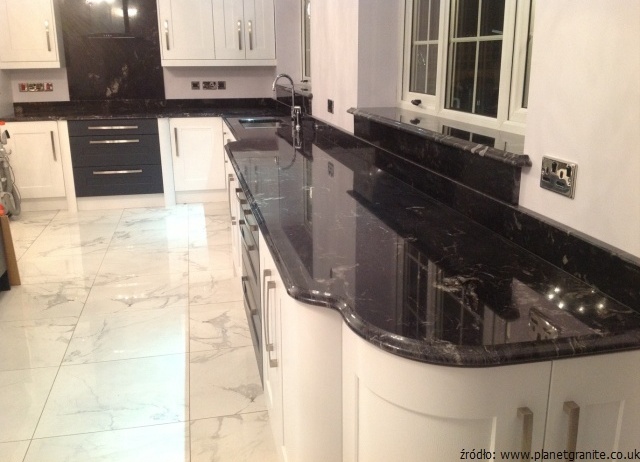 Dużą popularnością, przede wszystkim ze względu na swoje walory wizualne, cieszy się również marmur. Kamień ten jest jednak bardziej wymagający w pielęgnacji, a blaty z niego wykonane mogą łatwiej ulec zniszczeniu. Marmur jest skałą stosunkową miękką i chłonną, przez co łatwo wnikają w niego zabrudzenia. Dodatkowo kontakt z kolorowymi lub kwaśnymi substancjami może pozostawić na jego powierzchni trwałe przebarwienia.
Polecamy:


Polecanym materiałem na blaty kuchenne jest również konglomerat, czyli kamień ulepszony technologicznie. Powstaje on z połączenia cząstek wybranego kamienia (często granitu) oraz żywicy poliestrowej. Blaty z konglomeratu zazwyczaj odznaczają się bardzo dobrymi parametrami: trudniej chłoną wilgoć, są twarde i odporne na przebarwienia. Jednak dużo w tym względzie zależy od jakości konglomeratu. Dla bezpieczeństwa warto jak najszybciej ścierać z blatu wszelkie kolorowe substancje, ale również np. wylany sok z cytryny, a nawet wodę, aby minimalizować ryzyko uszkodzenia powierzchni blatu.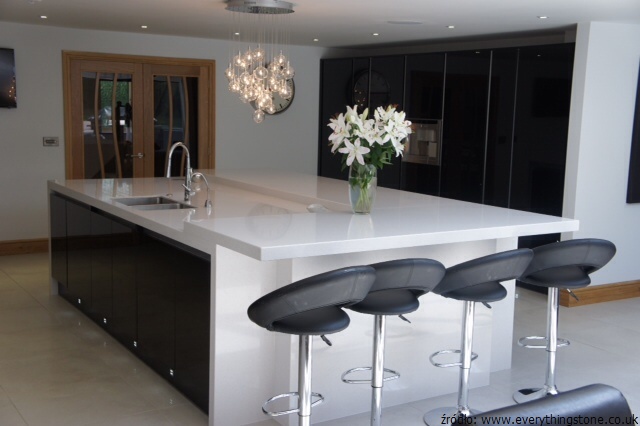 Niezależnie jednak od rodzaju kamienia, jaki wybierzemy, musimy pamiętać o jego regularnej impregnacji. Każdy bowiem gatunek posiada naturalną porowatość, a więc w mniejszym lub większym stopniu chłonie substancje z zewnątrz (również granit). Impregnat tworzy natomiast na powierzchni kamienia powłokę blokującą wnikanie płynów i innych zabrudzeń. Odpowiednio pielęgnowany i konserwowany blat będzie trwałym i estetycznym elementem aranżacji.

Krawędzie blatów
Po podjęciu decyzji o gatunku kamienia pozostaje wybór wykończenia krawędzi. To detal, który decyduje o ostatecznym wyglądzie i walorach wizualnych blatu. W zależności od zakładu kamieniarskiego obróbka krawędzi odbywa się ręcznie lub za pomocą specjalistycznych maszyn. Precyzja i staranność decydują o tym czy fazy będą równo wykonane, a światło miękko rozkładało się na krawędziach.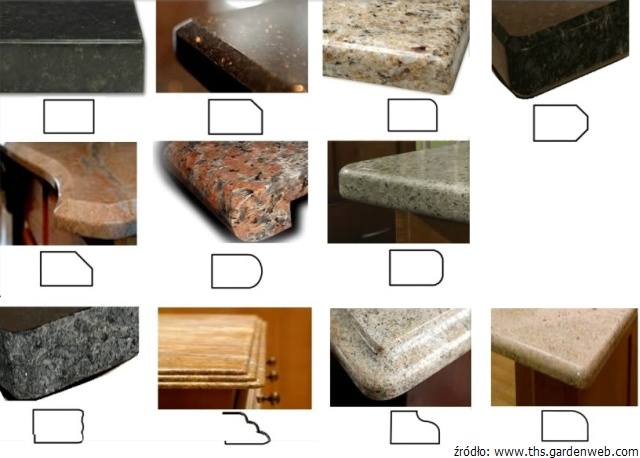 Najbardziej podstawową opcją jest prosty profil przełamany delikatnym skosem (tzw. faza), który niweluje ostre krawędzie. Taki blat ma uniwersalny wygląd i sprawdzi się niemal w każdym wnętrzu. Popularną wersją są również krawędzie o różnym stopniu zaokrąglenia.
Dostępne są również bardziej kunsztowne i dekoracyjne wykończenia profili. W kamieniu można bowiem wykonać różnorodne frezowania, które nadadzą krawędzi pofalowany kształt.
Warto jednak wiedzieć, że ozdobne, a co za tym idzie bardziej pracochłonne profile blatów, są zazwyczaj droższe od podstawowych wykończeń.