Kamień i drewno w różnych aranżacjach
Kamień i drewno to baza do tworzenia aranżacji w różnorodnych stylach, m.in. nowoczesnym, eko i rustykalnym. W zależności od gatunku każdego z tych materiałów, sposobu wykończenia ich powierzchni (w szczególności kamienia) oraz innych elementów, jakie pojawią się we wnętrzu, łazienka może nabrać innego charakteru. Marmury, granity i trawertyny o gładkiej fakturze dodadzą łazience elegancji. Bardziej surowy łupek wprowadzi do niej industrialny klimat. Natomiast otoczaki i duże, ciosane płyty kamienne o nieregularnych kształtach to sposób na stworzenie łazienki w rustykalnym stylu.

Aranżując łazienkę w oparciu o drewno i kamień możemy tworzyć różnorodne konfiguracje. Bardzo estetycznie prezentuje się np. łączenie drewnianej podłogi i kamiennej obudowy wanny czy drewnianego blatu oraz kamiennej umywalki. Ważne, aby umiejętnie dopasować do siebie gatunki, które mają zostać wykorzystane w jednym wnętrzu.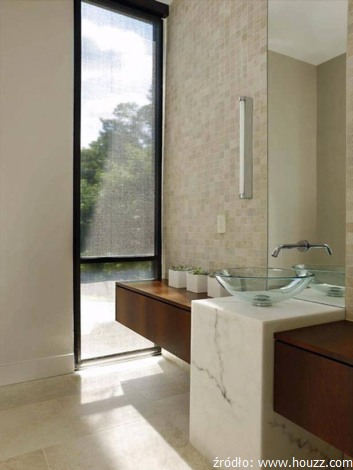 Jeżeli zależy nam na bardziej surowym i eleganckim wyglądzie, jako materiał dominujący wybierzmy kamień. Najbardziej szykownie prezentują się kamienie o fakturze polerowanej. Taka powierzchnia sprawdzi się jednak wyłącznie na blacie i ścianie. Polerowana posadzka w kontakcie z wodą może stać się bowiem śliska i niebezpieczna w użytkowaniu. Dominacja drewna zapewni natomiast bardziej ciepły, przytulny efekt wizualny. W aranżacji z przewagą drewna kamień może stanowić pojedynczy, ale wyrazisty akcent, np. okładziny ścianki działowej.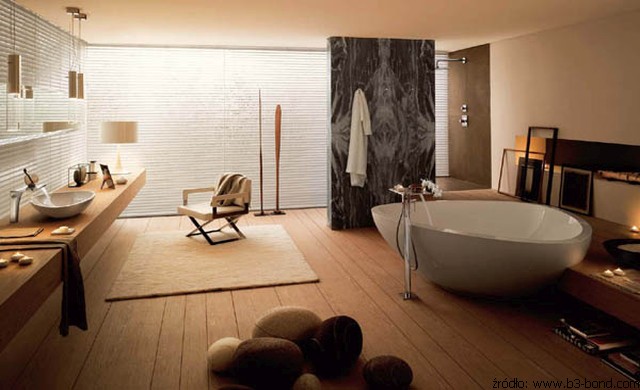 Kamień i drewno najczęściej występują w łazience w formie okładziny ściennej, posadzki, obudowy wanny czy blatu. Drewno sprawdzi się również w roli mebli łazienkowych, np. szafki pod umywalkę czy stołka. Każdy z tych materiałów możemy również wprowadzić pod postacią akcesoriów łazienkowych, np. mydelniczek, kubków i pojemników na waciki.
​
Kamień i drewno w łazience – jakie gatunki wybrać?
Pamiętajmy, że oba materiały – zarówno drewno, jak i kamień – wymagają odpowiedniej pielęgnacji i impregnacji. Warto również wybrać te odmiany surowców, które są najlepiej dostosowane do warunków panujących w łazience. W przypadku kamienia będzie to m.in. granit, który w niewielkim stopniu absorbuje wodę, dzięki czemu trudniej ulega przebarwieniom.
Ciekawy efekt wizualny zapewniają również otoczaki, które, jak żaden inny kamień, kojarzą się z wodą i podkreślają charakter łazienki. Proces montażu otoczaków nie jest szczególnie pracochłonny. Są one bowiem dostępne w formie gotowych płytek (na winylowej siatce mocuje się kamienie za pomocą specjalnego kleju, z czego następnie powstają płytki).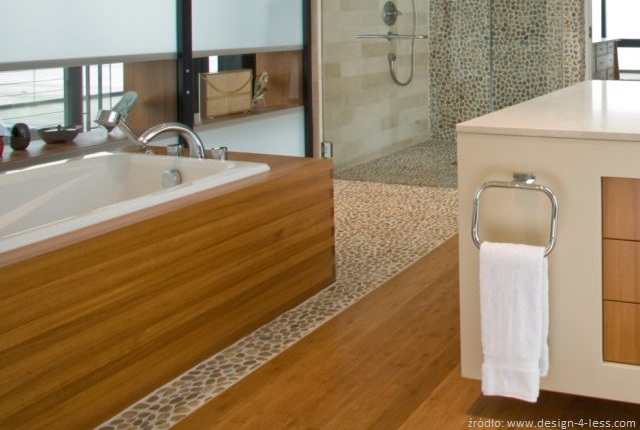 ​
Polecanymi gatunkami drewna do łazienki są przede wszystkim odmiany egzotyczne, np. teak, merbau i iroko. Mają one niższy współczynnik skurczu, dzięki czemu są mniej narażone na pękanie i wyginanie. Z rodzimych odmian możemy zdecydować się na dąb, jesion, modrzew czy jawor. Wymagają one jednak regularnej impregnacji, która zabezpieczy je przed paczeniem, rozwojem grzybów i pleśni, czemu szczególnie sprzyjają wilgoć i ciepło.