Posadzka z marmuru Nero Merquina
Polerowany marmur pod wpływem wilgoci może stać się śliski, dlatego wybór takiej faktury jest ryzykowny. Z drugiej jednak strony połyskująca powierzchnia dodaje wnętrzu nieprzeciętnej elegancji i sprawia, że zyskuje ono luksusowy charakter. W prezentowanej aranżacji zdecydowano się na ponadczasowe połączenie kolorystyczne bieli i czerni. Te dwie barwy doskonale się równoważą, dzięki czemu łazienka wygląda harmonijnie. Podłoga została wykonana z intensywnie połyskującego marmuru poprzecinanego białymi żyłami, które wyraziście odcinają się na ciemnym tle (jedna z nazw handlowych prezentowanego marmuru to Nero Merquina).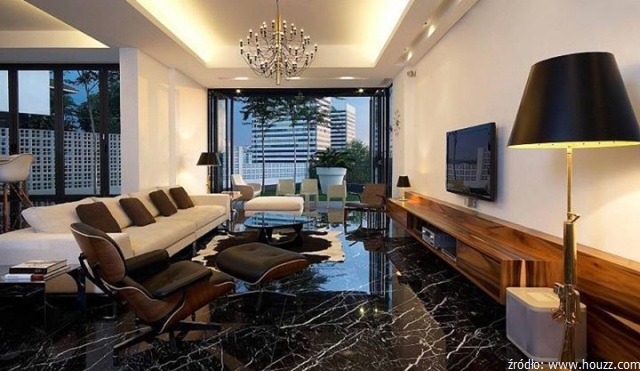 Kolejna posadzka wykonana z marmuru Nero Merquina. W tym przypadku użylenie jest bardziej gęste, co pokazuje jak różnorodne mogą być płytki kamienne nawet w obrębie tego samego gatunku. Czarną, wyrazistą posadzkę również zestawiono z białymi ścianami, które rozjaśniają wnętrze. Ciekawym akcentem jest zastosowanie innego, naturalnego materiału, czyli drewna. Ociepla ono aranżację i tonuje jej bardzo elegancki charakter.
Jasny marmur Calacatta na podłodze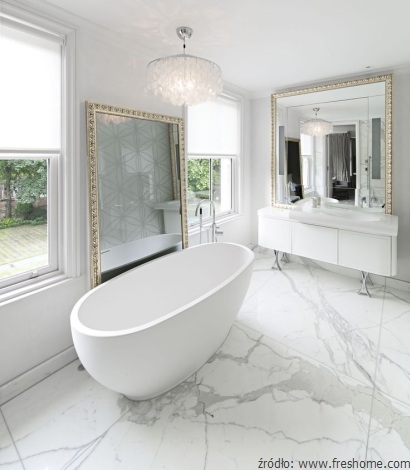 Podłoga wykonana z marmuru Calacatta (ten rodzaj często mylony jest z Binaco Carrara, który jednak ma delikatniejsze użylenie o pierzastym kształcie). Calacatta uważana jest za kamień luksusowy, dlatego podłoga z niego wykonana doda wnętrzu szyku. Przy tym doskonale komponuje się on z innymi, wytwornymi dodatkami, jak np. kryształowy żyrandol czy lustra w złoconej ramie.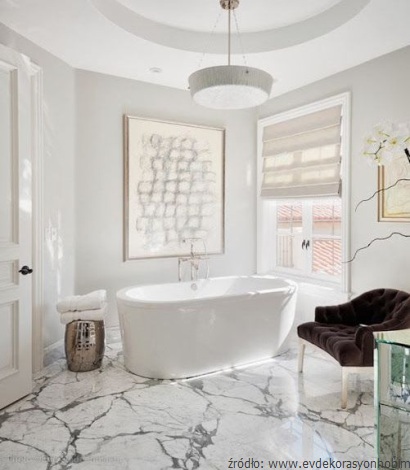 Kamienne mozaiki
Kamienna podłoga to nie tylko duże płyty o równych wymiarach. Może być ona również ułożona w bardziej fantazyjny i dekoracyjny wzór za sprawą niewielkich płytek. Jeden z przykładów to tzw. jodełka, która jest popularnym i tradycyjnym sposobem montażu podłogi (zazwyczaj drewnianej). Zastosowana w przypadku kamiennej podłogi daje niezwykły efekt, szczególnie kiedy naprzemiennie zostaną zamontowane płytki w różnych odcieniach.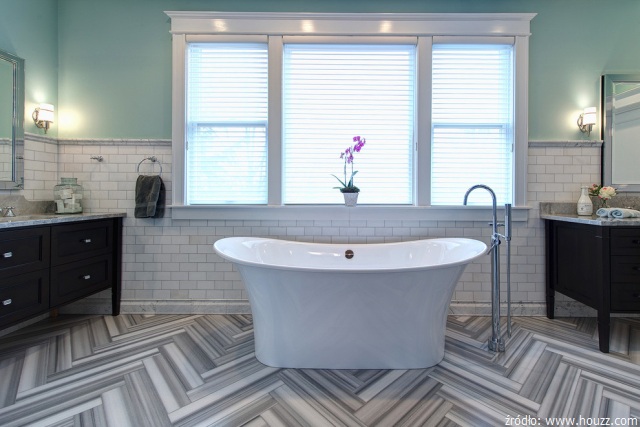 Jednak kamienna podłoga może mieć jeszcze bardziej niezwykły i ozdobny wygląd. Perfekcyjne wzory ułożone z kamienia, a niekiedy również innych materiałów upodabniają posadzkę do dzieła sztuki. Tego typu wzornictwo najlepiej prezentuje się w towarzystwie gładkich, jednolitych ścian – stanowią one wyważone tło dla dekoracyjnej podłogi.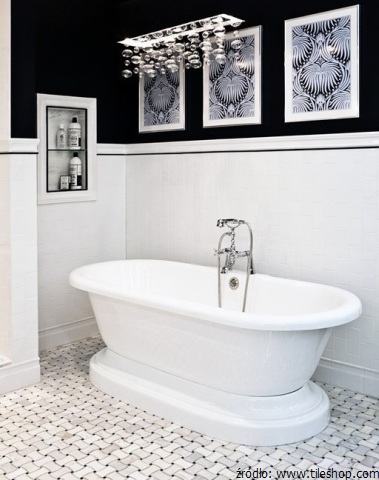 Polecamy: