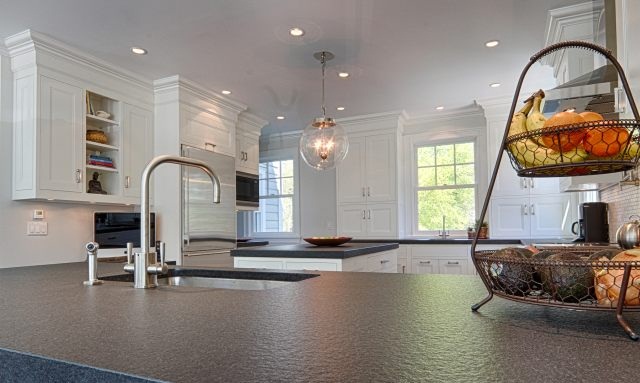 Fot. Szlifowany blat z kamienia naturalnego, www.blaty-kamienne.com
Wykończenia powierzchni
Istnieje wiele różnych sposób wykończenia powierzchni naszych blatów. Przyjrzyjmy się każdemu z nich:

Szlifowanie jest podstawowym procesem obróbki kamienia, które może stać się bazą dla kolejnych czynności, np. polerowania. Ta metoda sprawia, że blat posiadać będzie regularne koliste wgłębienia – ich stopień dostrzegalności możemy regulować. Powierzchnia będzie szorstka, czyli gwarantująca antypoślizgowość. Normalnie te szczeliny wypełniają się kurzem i pyłem, co może dawać ciekawe wrażenia postarzenia, jednak w przypadku blatów, które to wymagają wysokiej higieny, należy postawić na szczotkowanie i impregnację, które ułatwią nam utrzymanie czystości i zapewnią bezpieczeństwo. Kamień, którego nie poddamy impregnacji będzie matowy o bladej barwie, zaimpregnowany będzie charakteryzował się głębszym odcieniem.

Możemy wybierać między polerowaniem a pół-polerowaniem. Zaletą tej metody jest bardzo wysoki połysk, w przypadku większości gatunków kamieni (np. marmuru czy granitu) stosować można polerowanie na lustrzany połysk, niektóre należy jednak uprzednio poddać żywicowaniu. Polerowana powierzchnia pięknie odbija światło, które tym samym rozświetla wnętrze, sprawiając, że wydaje się ono optycznie większe. Efekt ten wyróżnia się także najgłębszym nasycenie barw spośród wszystkich dostępnych kamieniarskich faktur. Blaty tego typu idealnie sprawdzą się w nowoczesnych wnętrzach, których elegancję dodatkowo podkreślą. Dobrze skomponują się ze szkłem, stalą czy aluminium. Polerowany blat kamienny będzie doskonale imitował ten wykonany ze szkła, ale będzie od niego trwalszy i bezpieczniejszy. Blaty te są wprost stworzone do kuchennych przestrzeni – ich idealnie gładka powierzchnia nie przyciąga kurzu, odpycha wodę i inne ciecze, jest prosta w pielęgnacji i niezwykle higieniczna.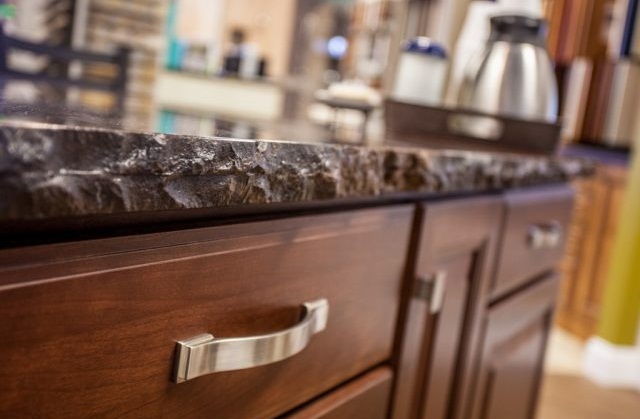 Fot. Płomieniowany blat z kamienia, www.blaty-kamienne.com

Płomieniowanie stosuje się w przypadku granitu, piaskowca, gnejsu i kwarcytu, natomiast niemożliwe jest stosowanie go do trawertynu, marmuru i wapienia (struktura tych kamieni zostałaby w ten sposób zniszczona). Metoda ta, w przeciwieństwie do polerowania, zapewnia całkowity mat. Dzięki płomieniowaniu uzyskujemy płaską, ale chropowatą, szorstką powierzchnię. Te właściwości sprawiają, że daje ona wrażenie naturalnie postarzonej skały. Blaty płomieniowane cechują się słabym nasyceniem barw, ale po impregnacji są one intensywniejsze. Płomieniowanie jest bazą dla szczotkowania, które pozwoli nam uzyskać wygładzoną, satynową powierzchnię.

Metodę tę da się zastosować do wszystkich rodzajów kamienia. Ze względu na tę uniwersalność finalny efekt, faktura i walory wizualne zależne są od rodzaju kamienia, który poddamy obróbce. Jedno jest jednak pewne, dzięki szczotkowaniu naturalnie, bez konieczności stosowania specjalnych impregnatów, możemy cieszyć się głębokim nasyceniem kolorów każdej powierzchni, która pierwotnie jest matowa i blada. Szczotkowanie zapewnia również antyczny wygląd. To jednak nie wszystko – jeśli chodzi o cechy techniczne podkreślić należy właściwości antypoślizgowe szczotkowanych płaszczyzn.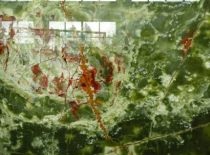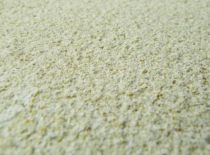 Fot. Powierzchnie blatów polerowanego, piaskowanego i szczotkowanego, www.blaty-kamienne.com

Każdy naturalny kamień można poddać metodzie piaskowania. Sprawia ona, że powierzchnia, nie tracąc na równości, zyskuje na chropowatości. Piaskowany blat będzie matowy, a co za tym idzie – nie będzie odbijał światła. Piaskowanie wykonywać można na całej powierzchni, bądź tylko je części, dzięki specjalnym szablonom. Metodę tę wykorzystuje się także do dekorowania wykończeń ornamentami, a także grawerowania dowolnych motywów na kamieniu. Dzięki temu nasz blat zyskać może niepowtarzalny charakter. Polerowanie wpływa na antypoślizgowość powierzchni oraz ułatwia utrzymanie czystości.
Wykończenie krawędzi
Kiedy już zdecydujemy się na rodzaj wykończenia powierzchni, warto zastanowić się nad typem wykończenia krawędzi blatu.
Krawędzie różnią się przede wszystkim kształtem. Wybierać możemy między innymi spośród – prostych, skośnych, ćwierć i półwałków, a także wklęsłych. Wewnątrz tych propozycji znajdziemy jednak kolejne rozróżnienia, które zapewniają nam naprawdę szerokie pole wyboru. Krawędzie naszych blatów mogę być ostre lub bardziej obłe, w kształcie liter alfabetu, np. "U" lub "S", geometryczne, czy nawet przypominające schody.