Otoczaki sprzedawane są jako pojedyncze kamienie, ale też w formie już gotowych płytek. Drugie rozwiązanie jest zdecydowanie bardziej praktyczne, ponieważ skraca czas montażu okładziny. Nie musimy przymocowywać każdego kamienia oddzielni i szukać pasujących do siebie egzemplarzy, które będą ładnie do siebie przylegać. Jednocześnie płytki, którymi wyłożymy ścianę powinny sprawiać wrażenia, jakby kamienie ją tworzące były przyklejone ściśle jeden obok drugiego.
Otoczaki są wyrazistymi kamieniami, które przykuwają uwagę. Jeżeli chcemy, aby ściana nimi wyłożona wyglądała estetycznie i schludnie, wybierajmy plastry, które będą się z sobą zazębiały, dzięki czemu łączenia między nimi będą niewidoczne. Płytki po przymocowaniu do ściany powinny razem tworzyć jednolitą powierzchnię bez widocznych spojeń (jeżeli krawędzi płytki będą proste, nie będą one zazębiać się z sąsiadującymi płytkami i miejsce łączenia każdej z nich będzie zauważalne). Dobrze wykonane przystają do siebie i nie wymagają fugi. Dzięki temu uzyskujemy efekt zwartej, bardzo estetycznej ściany. Drugi ważny aspekt to wysokość otoczaków, tworzących pojedynczą płytkę – powinna być ona równa. Na dobrze wykonanych płytkach z otoczaków nie powinno być również widoczne miejsca klejenia kamieni do siatki montażowej.
Ścianę z otoczaków możemy stosować niemal w każdym miejscu. Ze względu na skojarzenia z wodą, świetnie sprawdzą się w łazience, której będą naturalną ozdobą. Szczególnie efektownie będą wyglądał w strefie mokrej, czyli jako wykończenie prysznica. Po zmoczeniu wodą ściana z kamieni zaczyna lśnić, a kolor otoczaków zostaje pogłębiony.
Ścianę z otoczaków musimy odpowiednio zaimpregnować. Zapobiegnie to rozwojowi grzybów i pleśni. Ważne jest również podłoże, do którego przymocowywane są kamienie – otoczaki przyklejane są do specjalnej siatki i w ten sposób powstaje pojedyncza płytka. Materiał, z którego siatka jest wykonana, musi być odporny na wilgoć. Ten wymóg spełnia np. siatka winylowa.
Otoczaki nie są jedynym typem kamienia, z którego możemy wykonać ścianę w formie mozaiki. Do wyboru mamy jeszcze m.in. mozaiki z marmuru, onyksu, kamienia wulkanicznego i piaskowca.
​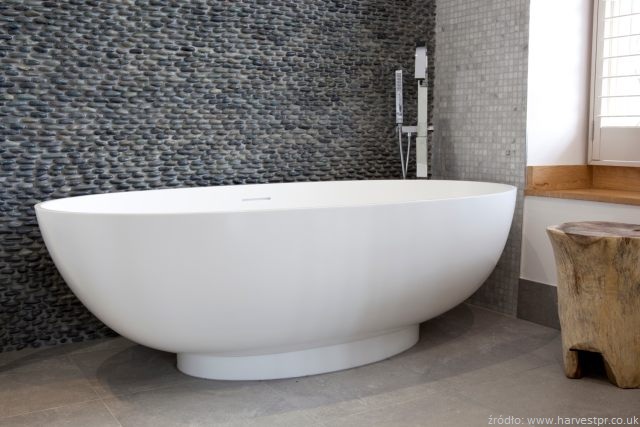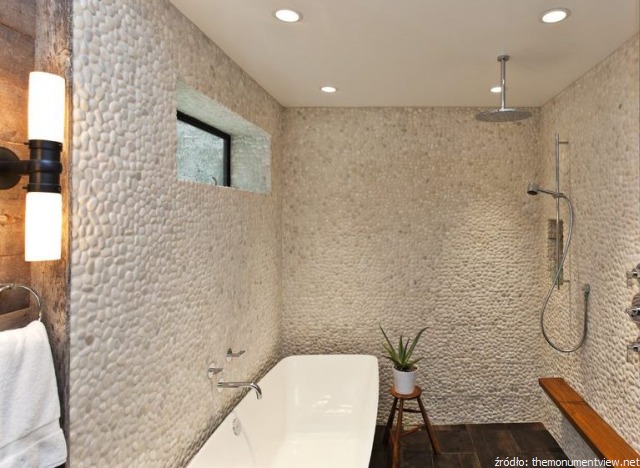 AO 15.09.2016