Zastąp tynk – kamieniem!
Kamień elewacyjny to bardzo ciekawa propozycja dla tradycyjnego elementu wykończeniowego, czyli tynku. Wykazuje doskonałe parametry użytkowe w tym dwa najważniejsze – trwałość i wyjątkowe walory estetyczne. To jednak nie jedyna ich zaleta! Kamienna elewacja to również ukłon w stronę bardzo modnego trendu, czyli duchu eko i związku z naturą.
Elewacja w kamieniu całego domu? Czy warto się zdecydować na taki krok? – Zdecydowanie tak! Wybierając elewację z kamienia mamy gwarancję, że nawet niewielkie, tradycyjne domki staną się bardziej awangardowe.  Chcąc stworzyć spójność stylistyczną na całej posesji możemy pokusić się również o wykonanie zabudowy altan, podjazdu, ogrodzenia czy ścieżek z tego samego materiału. Nie musimy się ponadto obawiać, że niesprzyjające warunki atmosferyczne pogorszą wygląd naszego kamienia! Charakteryzuje się on nie tylko izolacją termiczną, ale również wysoką odpornością na szkodliwe działanie opadów śniegu, deszczu czy mrozu, przez co stanowi idealny materiał budulcowy. Mimo tak przystępnych parametrów użytkowych nie powinniśmy pomijać ważnego etapu jakim jest jego odpowiednia impregnacja, która przedłuży żywotność i idealny wygląd naszego kamienia.
Fot. Płytki Łupek Black Slate/ klink.pl
Do wyboru do koloru
Elewacja wykonana z kamienia to nieskończone możliwości aranżacji naszej domowej przestrzeni. Wybór w tym temacie jest niezwykle bogaty, a producenci wciąż zaskakują nas nowymi rozwiązaniami i rodzajami kamienia. Aspekt wizualny jest tutaj na równi z użytecznością, bowiem oprócz atrakcyjnego i czasem bardzo oryginalnego wyglądu jest to materiał budulcowy, który posłuży nam na długie lata.  Możemy ponadto dopasować wzór i rodzaj kamienia do całej stylistyki naszej działki.
Materiały na 5!
Pora odpowiedzieć sobie na pytanie rodzaje elewacji kamiennych warto wybrać. Łupek, gnejs, piaskowiec, kwarcyt a może granit? Czym różnią się od siebie poszczególne propozycje?
Kamień łupkowy charakteryzuje się wyjątkową kolorystyką, na jego powierzchni mogą tworzyć się nieregularne barwne kompozycje. Panele z tego materiału ułożone blisko siebie wzajemnie się uzupełniają, dzięki czemu stanowią spójną wizualnie jedność. Kamieniem łupkowym można wykończyć całą zewnętrzną elewację budynku, bądź tylko wybraną jej część. Można go również zestawić z popularnymi płytkami betonowymi lub deskami. Łupek doskonale podkreśla również takie materiały jak szkło czy metal.  Kolor kamienia łupkowego możemy również dopasować m.in. do okiennic, dzięki czemu po raz kolejny stawiamy na element, który dopełni całość zabudowy. To również ciekawy pomysł na urozmaicenie stonowanej elewacji!
Gnejs to kamień metamorficzny, który zyskał rzeszę zwolenników ze względu na swój nietypowy wygląd. Jego błyszczące uziarnienie to doskonała propozycja na dekoracyjną ścianę – zarówno na zewnątrz, jak i wewnątrz budynku. Charakteryzują się odpornością na ścieranie, niewielką nasiąkliwością i wykazują właściwości antypoślizgowe, co czyni go idealnym materiałem okładzin podłogowych, tarasowych oraz ścieżek ogrodowych. Szereg zalet zamyka bogata oferta kolorystyczna od klasycznych szarości, bieli i beży po czerwienie, złoto, brąz czy multikolor.
Granit to z kolei jedna z najbardziej trwałych i jednocześnie najpopularniejszych propozycji. Swoją renomę zyskał jako perfekcyjny materiał na kuchenne blaty, które nie nasiąkają wodą, są odporne na uszkodzenia i dodatkowo są łatwe i szybkie w czyszczeniu. Te zalety granitu można wykorzystać eksploatując go, jako materiał na elewacje domów. To co warto podkreślić, to fakt, że kamień ten jest odporny na działanie promieni UV, dzięki czemu jego kolorystyka nie ulegnie zmianie z biegiem czasu.Granit dostępny jest w bogatej palecie barw.
Do wykończenia elewacji może nam posłużyć również kwarcyt. To obok granitu jeden z najtrwalszych materiałów skalnych. Kamień ten tworzą w większości drobne kryształy kwarcu, które pod wpływem działania czynników zewnętrznych, takich jak wysokie ciśnienie i temperatura, zostały przeobrażone. Struktura kwarcytu jest dzięki temu bardzo mocno zbita i twarda. Cecha charakterystyczną tego kamienia jest bogata paleta kolorów oraz dość jednolita kolorystyka. Skała ta występują w odcieniach: beżowych, brązowych, szarych, grafitowych, jasnoniebieskich, żółtych, kremowych, czerwonych, białych, lub mieszanki wymienionych kolorów. Waloru dekoracyjnego dodaje mu często występujące refleksy świetlne, które tworzą efekt szklistej, kryształowej powierzchni, nawet jeżeli kamień nie jest polerowany.
Piaskowiec to z kolei zwięzła, zazwyczaj drobnoziarnista skała osadowa występująca w szerokiej palecie barw – najpopularniejszy i najczęściej wykorzystywany jest piaskowiec żółty i czerwony. Najczęściej spotykamy go na parapetach, fasadach, ścieżkach ogrodowych oraz ogrodzeniach, ponieważ wilgoć, promienie UV oraz zmienne warunki atmosferyczne nie mają wpływu na jego wygląd i trwałe właściwości. Piaskowiec ma zatem podobne parametry, jak granit, tylko że jest bardziej porowaty i wymaga częstszej impregnacji.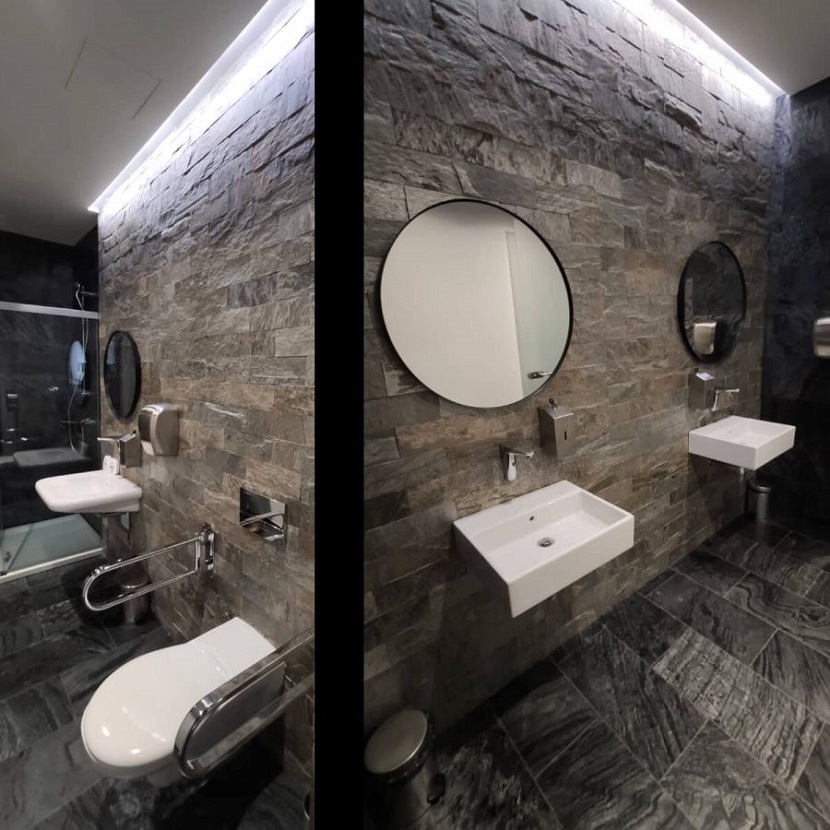 Fot. Płytki Łupek Silver Shine/ klink.pl
Zajrzyjmy do środka!
Kamień elewacyjny – klink.pl to doskonały materiał wykończeniowy zewnętrza domu czy ogrodzenia. Poszczególne materiały kamienne różnią się od siebie parametrami ale w przeważającej mierze, kamień jako naturalny materiał, jest odporny na wilgoć, odbarwienia pod wpływem działania promieni słonecznych i działanie zmiennych temperatur. Tym samym jego wykorzystanie na zewnątrz, jest jak najbardziej uzasadnione.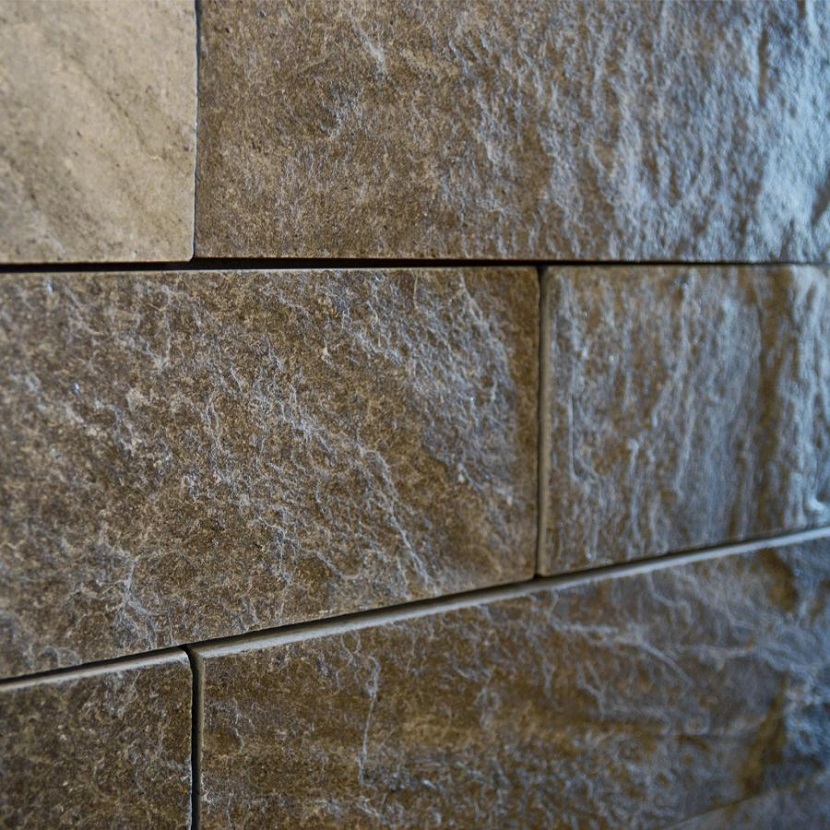 Fot. Płytki Kwarcyt Silver Grey/ klink.pl