Kamień na ścianie – charakterystyka ogólna
Cechy wyróżniające kamień dotyczą dwóch pól:

Kamień na ścianie to przede wszystkim wybór ekskluzywny, szlachetny i elegancki. Jest to wyrazisty i dekoracyjny materiał, który z pewnością świetnie ozdobi nie tylko nasze ściany, ale całemu wnętrzu nada niepowtarzalny charakter i smak.

Nie tylko walory wizualne cechują
kamień na ścianie
. Może on również szczycić się niezwykłymi właściwościami funkcjonalnymi. Przede wszystkim charakteryzuje się niezwykłą trwałością, do tego jest łatwy w utrzymaniu. Ponadto różnorodność gatunków kamienia, kolorów, ciekawych użyleń sprawia, że kamień można dopasować niemal do każdego wnętrza.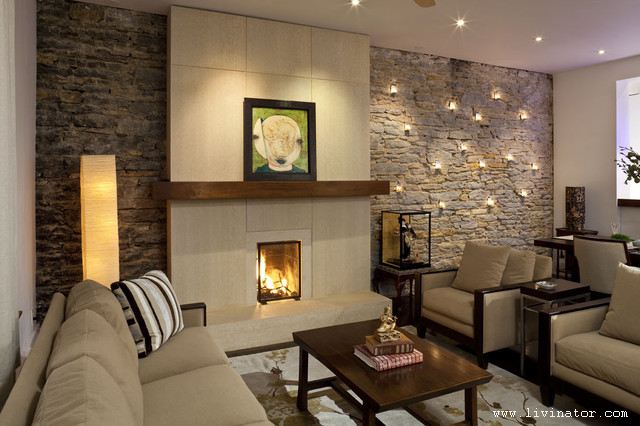 Kamień na ścianie – do jakiego pomieszczenia?
Jak wspomnieliśmy, kamień na ścianie zastosować możemy praktycznie w każdym pomieszczeniu. Czasy kiedy materiał ten królował wyłącznie w kuchni czy salonie, minęły. Kamień na ścienie w każdym wnętrzu zaprezentuje się oryginalnie. Miejmy na uwadzę jednak parę kwestii:

Pamiętajmy, by kamień na ścianie stosować z rozwagą – inaczej zamiast ciekawie dopełniać wystrój wnętrza, może on zdominować niekorzystnie przestrzeń. Rozważnie podchodźmy zarówno do ilości jak i róznorodności gatunków w jednym wnętrzu.
Zwracajmy też uwagę na parametry i właściwości konkretnego rodzaju kamienia, ponieważ bardziej wymagajace wnętrza takie jak kuchnia czy łazienka będą wymagały zamontowania trwalszej odmiany tego surowca. W takim wypadku przed montażem kamienia na ścianie konieczne będą również izolacja i specjalne zabezpieczenia.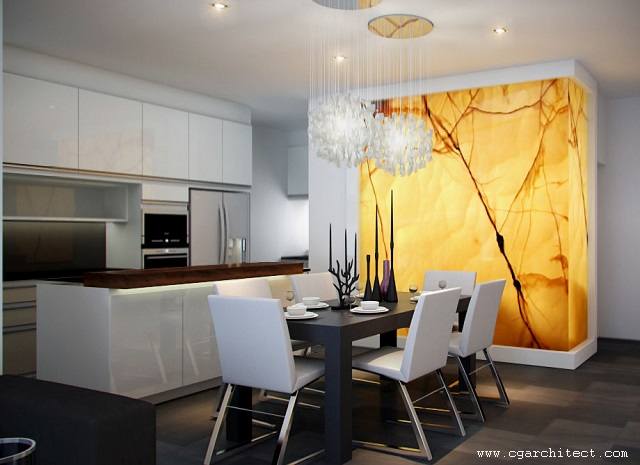 Kamień na ścianie – jaki rodzaj kamienia wybrać?
O ile niekażdy rodzaj kamienia będzie fortunnym wyborem na przykład na posadzkę, o tyle w roli kamienia na ścianie sprawdzą się wszystkie gatunki. Kamień na ścianie nie jest tak narażony na uszkodzenia mechaniczne czy kontakt z chemicznymi substancjami, więc parametry odpornościowe kamienia nie muszą być najwyższe.
Nie bójmy się zatem sięgać po delikatniejsze kamienie, takie jak:
– wapienie,
– onyksy,
– piaskowce
– trawertyny
– marmur
Oczywiście można polegać również na najtrwalszym kamieniu dekoracyjnym – granicie.

Uwaga! Szeroka paleta kolorystyczna i mnogość faktury czy rysunków jest wielką zaletą kamienia na ścianie. Jednak należy być ostrożnym i wybór należycie przemyśleć – kamień na ścianie będzie dobrze wyglądał tylko, jeśli odpowiednio i harmonijnie skomponuje się z pozostałymi elementami wnętrza.
Wygląd kamienia na ścianie będzie też zależny od jego wykończenia:
– polerowanie sprawi, że powierzchnia będzie błyszcząca, a barwa intensywna,
– piaskowanie czy satynowanie spowoduje, że
kamień na ścianie
będzie aksamitny, stonowany i o ciepłym odcieniu,
– szczotkowanie natomiast pozwala wydobyć ciekawą fakturę kamienia.


Kamień na ścianie – rodzaje montowania
Duże formaty płyt – wykonywane są z marmuru bądź granitu, nie posiadają fug ani łączeń, dzięki czemu zachwycają jednolitą, monumentalną płaszczyzną.
Mozaiki kamienne w formie paneli – stosowane najczęściej ze względu na korzystną cenę i walory wizualne (dla dodatkowego efektu można je również podświetlać),
Cięte kamienie panelowe – łatwe w montażu, specjalnie przygotowane do instalacji na ścianie.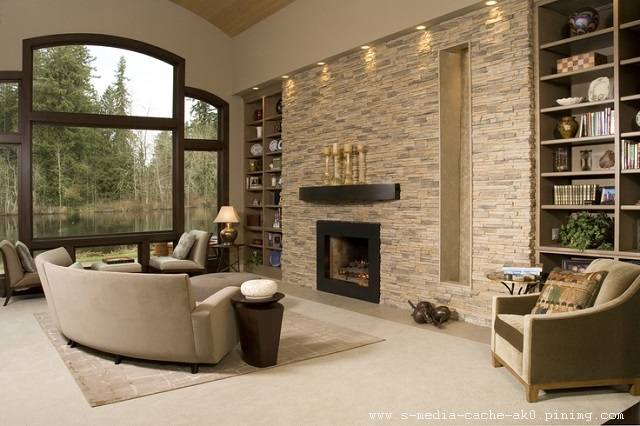 Kamień na ścianie – konserwacja i pielęgnacja
Kamień na ścianie zachwycać nas będzie niebywałą odpornością, trwałością i świetną precenzją, jednak wyłącznie, gdy będziemy odpowiednio o niego dbać. W zależności od wybranego przez nas gatunku impregnację stosować należy z różną regularnością, nie wolno jednak o niej zapominać. Inaczej pory materiału nie zostaną zamknięte i wnikać w nie będzie brud oraz woda.
Nie obejdzie się również bez odpowiedniej pielęgnacji. Aby mieć pewność, że kamień na ścianie jest dobrze chroniony – przed zaplamieniami, utratą głębi koloru, a także wnikaniem wilgoci czy brudu – używajmy tylko specjalnych środków przeznaczonych do tego rodzaju materiału.