1. Jaki kamień najlepiej sprawdzi się w roli posadzki?
Za najlepszy gatunek kamienia na posadzki uznawany jest granit. To twardy i odporny na ścieranie materiał, który dobrze znosi nawet intensywną eksploatację. Ponadto jest mniej chłonny niż np. marmur czy piaskowiec, przez co nie przyjmuje łatwo zabrudzeń. Jednak walory użytkowe kamienia w dużej mierze zależą również od sposobu jego obróbki, faktury, jaka jest mu nadana oraz impregnacji. Nawet mniej wytrzymałe i bardziej porowate kamienia mogą posłużyć jako wykończenie podłogi, jeżeli zostaną odpowiednio do tego przygotowane.
2. Jak pielęgnować posadzkę z kamienia?
Posadzka z kamienia powinna być oczyszczona i zaimpregnowana bezpośrednio po zamontowaniu. Zwiększy to jej wytrzymałość na zarysowania, zabrudzenia i powstawanie przebarwień. Impregnację należy powtarzać co 2-3 lata. Matowienie posadzki jest jednym z sygnałów, że czynność tę warto wykonać ponownie.
Na co dzień ważny jest sposób czyszczenia posadzki. Kurz i inne drobne zabrudzenia najlepiej usuwać za pomocą miękkiej szczotki – odkurzacz może bowiem zarysować kamień. Do mycia płytek należy stosować preparaty dedykowane, ponieważ środki uniwersalne niekiedy zawierają składniki uszkadzające materiał, np. chlor (niszczy granit) lub kwasy (niszczą marmur). Ewentualnie do czyszczenia można wykorzystać łagodne, nie zawierające fosforanów płyny do mycia naczyń.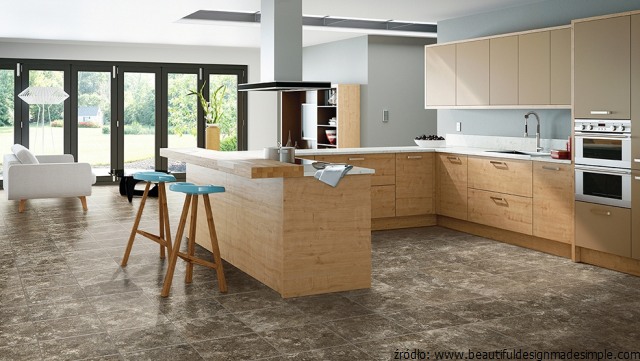 3. Czy posadzka z kamienia może być stosowana na ogrzewaniu podłogowym?
Kamień jest doskonałym materiałem na posadzki z ogrzewaniem podłogowym. Wynika to z jego zdolności przewodzenia oraz akumulowania ciepła. Dzięki nim podłoga długo utrzymuje wysoką temperaturę nawet po wyłączeniu ogrzewania. W sezonie grzewczym kamienna posadzka zapewni ciepło w pomieszczeniu, a latem i wiosną da przyjemny chód.
Polecamy:
4. Czy kamienne płytki można zamontować bezfugowo?
Do bezfugowego montażu kamiennej posadzki stosuje się płytki bez fazy. Jednak w przypadku kamienia trudno jest uzyskać idealnie jednolitą powierzchnię, ponieważ łączenia pozostaną widoczne.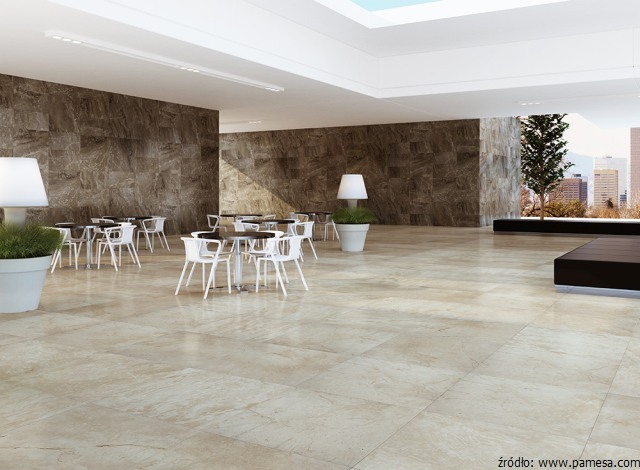 5. Czy w kamiennej posadzce można wymienić tylko jedną płytkę?
Istnieje taka możliwość, jednak podczas wymiany płytki może dojść do uszkodzenia sąsiadujących z nią kafli. Z tego względu warto mieć w zapasie więcej sztuk, aby w razie konieczności wymienić wszystkie naruszone elementy. Trzeba również wziąć pod uwagę, że nowa płytka – nawet jeżeli jest wykonana z tego samego gatunku kamienia – może odbiegać swoim wyglądem od reszty posadzki. Każdy kamienny blok jest bowiem inny, różni się sposobem użylenia i odcieniem, dlatego płytki wykonane z innego slabu* mogą nie być dostosowane wizualnie do już zamontowanej posadzki.
*Slab – płyta kamienna, która powstaje z rozcinania bądź przetarcia bloków lub brył.