Fot. Umywalki Dune
Kamienne umywalki Dune
Kamienne orgiami? Projektanci umywalki Dune – Fabio Fazio i Patrizię Furnari – udowadniają, że to możliwe. Sześciokątna misa modelu Dune wygląda jak kartka papieru ułożona zgodnie z japońską sztuką. Budzi również skojarzenia z zatrzymaną w ruchu figurą. Umywalki są wykonywane z dwóch rodzajów kamienia o różnych fakturach: z polerowanego marmuru Carrara oraz ze szlifowanego wapienia Grigio Tunisi. Podstawa, również sześciokątna, ma kształt odpowiadający budowie misy.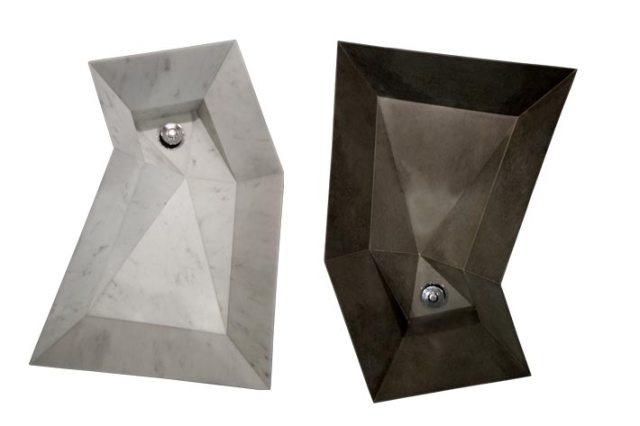 Kamienne umywalki Ciuri
Umywalki z kolekcji Ciuri powstają z dwóch, klasycznych odmian marmuru: jasnego Bianco Carrara i ciemnego Nero Marquina. To modele wolnostojące w kształcie odwróconej litery L. Posiadają smukłą podstawę, która płynnie łączy się z długą misą o delikatnie zaokrąglonym dnie. Sposób wyprofilowania misy dodaje projektowi lekkości i to on decyduje o jego wizualnym odbiorze. Uzupełnieniem umywalki jest minimalistyczna i elegancka bateria stojąca.
Kolekcja Ciuri została zaprojektowana przez Marco Piva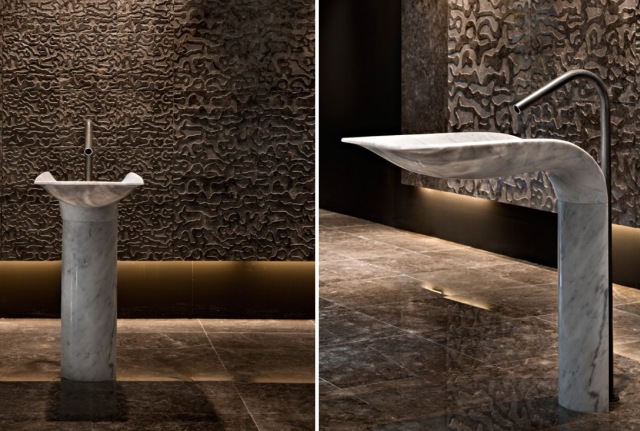 Fot. Umywalki Ciuri
Kamienne umywalki Unna
Kolejna propozycja od firmy Lithea: umywalki z kolekcji Unna, mają opływową linię. Ich kształt budzi skojarzenia z falującą wodą. Wykonywane są z jasnego lub brązowego marmuru.
Umywalki Unna dostępne są w dwóch wariantach: A i B. Pierwszy posiada masywną obudowę i wyraźnie zaznaczone ściany. Umywalka Unna B ma smuklejszą linię i znacznie cieńszą krawędź boczną. Oba modele są przeznaczone do montażu nablatowego lub na postumencie (wariant wolnostojący).
​
Umywalki z kolekcji Unna z całą pewnością są produktami wyjątkowo pięknymi i dekoracyjnymi. Pojawia się jednak wątpliwość – czy ich płytka misa nie będzie sprzyjać rozchlapywaniu wody, a tym samym czy nie utrudni korzystania z umywalki?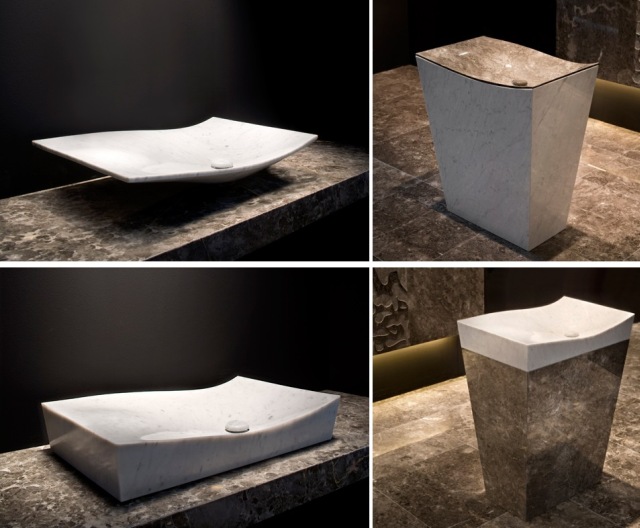 Fot. Umywalki Unna
żródło zdjęć: www.lithea.it
6.10.2016