Podłoga z kamienia – rozwiązanie wielopokoleniowe i ponadczasowe
Faktem jest, że wykonanie podłogi z płytek ceramicznych czy chociażby paneli podłogowych, pozwoli zaoszczędzić sporo pieniędzy, ale licząc na wyjątkowy kunszt aranżowanego wnętrza zdecydowanie warto zastanowić się nad wykonaniem podłogi z kamienia. To materiał niezwykle elegancki, który wbrew obiegowym opiniom wcale nie musi być zimny i nieprzyjemny. Co bardzo ciekawe, podłoga kamienna potrafi być jak dobre wino. Kamień po wielu latach użytkowania nie zużywa się w mało estetyczny sposób. W przypadku wysokiej klasy kamienia wytarte struktury odkryją jego prawdziwą głębię i uczynią jeszcze piękniejszym. Cena w tym wypadku jest tylko pozornie wysoka. To bowiem podłoga wielopokoleniowa i, jeśli tylko zainwestujemy w wysokiej jakości kamień, to na pewno przetrwa on wiele dekad zachowując swój piękny wygląd przy odrobinie wysiłku związanego z drobną konserwacją.
Najpopularniejsze rodzaje podłóg z kamienia
Decydując się na zakup płytek kamiennych do wyłożenia na podłodze możemy wziąć pod uwagę kilka najpopularniejszych rodzajów kamienia, z których się je wykonuje. W przypadku najtańszych rozwiązań podłoga z kamienia może być wykonana z bazaltu, sjenitu lub chociażby twardego piaskowca.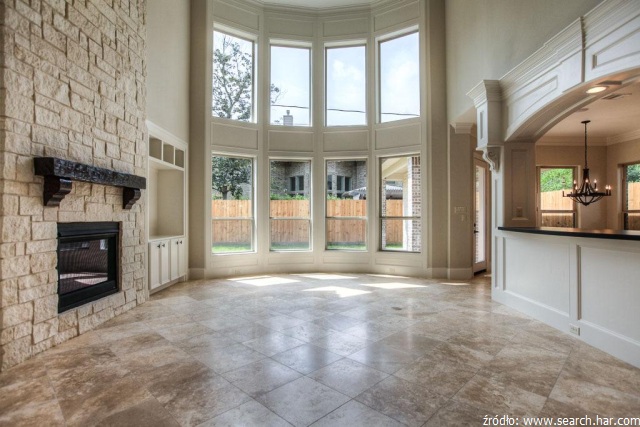 Każdy z tych kamieni, jeśli tylko został wykończony przez dobrego fachowca, cechuje się unikalną strukturą i bardzo ciekawym wyglądem, ale musimy mieć świadomość także ważnej wady związanej z wyborem tańszego rozwiązania. W szczególności bowiem piaskowiec ma obniżoną odporność na ścieranie, a więc decydując się na podłogę z kamienia tego rodzaju warto kupić nieco grubsze płytki, aby w razie potrzeby była możliwość ich oszlifowania i przywrócenia dobrego wyglądu.
Polecamy:
​
Najdroższe, ale jednocześnie najpiękniejsze i najtrwalsze, są płytki podłogowe wykonane z granitu bądź też marmuru (marmur przeznaczony jest do miejsc o małym nasileniu ruchu). Oba te materiały cechuje wyjątkowa trwałość oraz naturalne piękno, które wprawi w zachwyt nawet osoby o mniejszym poczuciu estetyki.Tutaj na dodatkową uwagę zasługuje jedynie marmur, o którym to musimy pamiętać, że raczej nie nadaje się on do użytku zewnętrznego, gdyż wilgoć potrafi skutecznie i szybko zniszczyć jego piękną strukturę.
Układanie i konserwacja podłogi z kamienia
Podłoga z kamienia układana jest niejako na dwa oddzielne etapy. Zaczyna się bowiem od wylania na podłogę zaprawy cementowej w półsuchej formie, do której kamienne płytki jeszcze się nie przykleją. Na tak przygotowane podłoże układa się normalnie podłogę dbając o zachowanie zamierzonego wzoru i odpowiednie wypoziomowanie płytek względem siebie jak i całego pomieszczenia. Po takim przygotowaniu wstępnym wyciąga się po kilka płytek jednocześnie i zaprawę polewa specjalnym mleczkiem cementowym. Mleczko wyrówna ostatecznie powierzchnię pod płytką kamienną, a do tego spowoduje jej przyklejenie. Po podłodze z kamienia będzie można chodzić już bez obaw po 2-3 dniach, kiedy to jeszcze pozostaje tylko wykonanie spoinowania wieńczącego proces układania podłogi.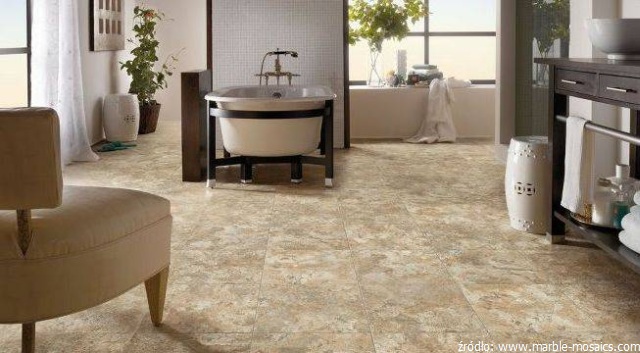 Równie prosta jest konserwacja takiej podłogi, którą to przeprowadza się tak naprawdę raz na kilka lat, oczywiście w zależności od jakości kamienia jaki wybraliśmy. Na co dzień podłogę niezwykle łatwo utrzymuje się w czystości. Wystarczy tylko woda z detergentem i zwykły mop. W trakcie konserwacji każdą powierzchnię kamienną należy pokryć specjalnym lakierem wodnym, a kamienie takie jak piaskowiec można ówcześnie nieco oszlifować, aby wydobyć dodatkowy połysk z głębi struktury. Podłogi z kamienia mniej odporne na ścieranie pokrywa się jeszcze dodatkową warstwą lakieru zwiększającego wytrzymałość kamienia i reagują z nim powierzchniowo.
Podłoga z kamienia jest zdecydowanie inwestycją opłacalną, gdyż robioną na długie lata. Można swobodnie kłaść ją w salonach, kuchniach, łazienkach, a nawet i w przedpokojach tworząc tym samym naturalny i miły dla oka wygląd.