Warning
: is_file(): Unable to find the wrapper ".https" - did you forget to enable it when you configured PHP? in
/home/klient.dhosting.pl/mkmmedia/nowa_kamienportal.pl/public_html/wp-includes/class-wp-image-editor-imagick.php
on line
138
Warning
: is_file(): Unable to find the wrapper ".https" - did you forget to enable it when you configured PHP? in
/home/klient.dhosting.pl/mkmmedia/nowa_kamienportal.pl/public_html/wp-includes/class-wp-image-editor-imagick.php
on line
138
Warning
: is_file(): Unable to find the wrapper ".https" - did you forget to enable it when you configured PHP? in
/home/klient.dhosting.pl/mkmmedia/nowa_kamienportal.pl/public_html/wp-includes/class-wp-image-editor-imagick.php
on line
138
Warning
: is_file(): Unable to find the wrapper ".https" - did you forget to enable it when you configured PHP? in
/home/klient.dhosting.pl/mkmmedia/nowa_kamienportal.pl/public_html/wp-includes/class-wp-image-editor-imagick.php
on line
138
Warning
: is_file(): Unable to find the wrapper ".https" - did you forget to enable it when you configured PHP? in
/home/klient.dhosting.pl/mkmmedia/nowa_kamienportal.pl/public_html/wp-includes/class-wp-image-editor-imagick.php
on line
138
Warning
: is_file(): Unable to find the wrapper ".https" - did you forget to enable it when you configured PHP? in
/home/klient.dhosting.pl/mkmmedia/nowa_kamienportal.pl/public_html/wp-includes/class-wp-image-editor-imagick.php
on line
138
Warning
: is_file(): Unable to find the wrapper ".https" - did you forget to enable it when you configured PHP? in
/home/klient.dhosting.pl/mkmmedia/nowa_kamienportal.pl/public_html/wp-includes/class-wp-image-editor-imagick.php
on line
138
Warning
: is_file(): Unable to find the wrapper ".https" - did you forget to enable it when you configured PHP? in
/home/klient.dhosting.pl/mkmmedia/nowa_kamienportal.pl/public_html/wp-includes/class-wp-image-editor-imagick.php
on line
138
Warning
: is_file(): Unable to find the wrapper ".https" - did you forget to enable it when you configured PHP? in
/home/klient.dhosting.pl/mkmmedia/nowa_kamienportal.pl/public_html/wp-includes/class-wp-image-editor-imagick.php
on line
138
Warning
: is_file(): Unable to find the wrapper ".https" - did you forget to enable it when you configured PHP? in
/home/klient.dhosting.pl/mkmmedia/nowa_kamienportal.pl/public_html/wp-includes/class-wp-image-editor-imagick.php
on line
138
Warning
: is_file(): Unable to find the wrapper ".https" - did you forget to enable it when you configured PHP? in
/home/klient.dhosting.pl/mkmmedia/nowa_kamienportal.pl/public_html/wp-includes/class-wp-image-editor-imagick.php
on line
138
Warning
: is_file(): Unable to find the wrapper ".https" - did you forget to enable it when you configured PHP? in
/home/klient.dhosting.pl/mkmmedia/nowa_kamienportal.pl/public_html/wp-includes/class-wp-image-editor-imagick.php
on line
138
Warning
: is_file(): Unable to find the wrapper ".https" - did you forget to enable it when you configured PHP? in
/home/klient.dhosting.pl/mkmmedia/nowa_kamienportal.pl/public_html/wp-includes/class-wp-image-editor-imagick.php
on line
138
Warning
: is_file(): Unable to find the wrapper ".https" - did you forget to enable it when you configured PHP? in
/home/klient.dhosting.pl/mkmmedia/nowa_kamienportal.pl/public_html/wp-includes/class-wp-image-editor-imagick.php
on line
138
Warning
: is_file(): Unable to find the wrapper ".https" - did you forget to enable it when you configured PHP? in
/home/klient.dhosting.pl/mkmmedia/nowa_kamienportal.pl/public_html/wp-includes/class-wp-image-editor-imagick.php
on line
138
Warning
: is_file(): Unable to find the wrapper ".https" - did you forget to enable it when you configured PHP? in
/home/klient.dhosting.pl/mkmmedia/nowa_kamienportal.pl/public_html/wp-includes/class-wp-image-editor-imagick.php
on line
138
Warning
: is_file(): Unable to find the wrapper ".https" - did you forget to enable it when you configured PHP? in
/home/klient.dhosting.pl/mkmmedia/nowa_kamienportal.pl/public_html/wp-includes/class-wp-image-editor-imagick.php
on line
138
Warning
: is_file(): Unable to find the wrapper ".https" - did you forget to enable it when you configured PHP? in
/home/klient.dhosting.pl/mkmmedia/nowa_kamienportal.pl/public_html/wp-includes/class-wp-image-editor-imagick.php
on line
138
Warning
: is_file(): Unable to find the wrapper ".https" - did you forget to enable it when you configured PHP? in
/home/klient.dhosting.pl/mkmmedia/nowa_kamienportal.pl/public_html/wp-includes/class-wp-image-editor-imagick.php
on line
138
Warning
: is_file(): Unable to find the wrapper ".https" - did you forget to enable it when you configured PHP? in
/home/klient.dhosting.pl/mkmmedia/nowa_kamienportal.pl/public_html/wp-includes/class-wp-image-editor-imagick.php
on line
138
Warning
: is_file(): Unable to find the wrapper ".https" - did you forget to enable it when you configured PHP? in
/home/klient.dhosting.pl/mkmmedia/nowa_kamienportal.pl/public_html/wp-includes/class-wp-image-editor-imagick.php
on line
138
Warning
: is_file(): Unable to find the wrapper ".https" - did you forget to enable it when you configured PHP? in
/home/klient.dhosting.pl/mkmmedia/nowa_kamienportal.pl/public_html/wp-includes/class-wp-image-editor-imagick.php
on line
138
Warning
: is_file(): Unable to find the wrapper ".https" - did you forget to enable it when you configured PHP? in
/home/klient.dhosting.pl/mkmmedia/nowa_kamienportal.pl/public_html/wp-includes/class-wp-image-editor-imagick.php
on line
138
Warning
: is_file(): Unable to find the wrapper ".https" - did you forget to enable it when you configured PHP? in
/home/klient.dhosting.pl/mkmmedia/nowa_kamienportal.pl/public_html/wp-includes/class-wp-image-editor-imagick.php
on line
138
Warning
: is_file(): Unable to find the wrapper ".https" - did you forget to enable it when you configured PHP? in
/home/klient.dhosting.pl/mkmmedia/nowa_kamienportal.pl/public_html/wp-includes/class-wp-image-editor-imagick.php
on line
138
Warning
: is_file(): Unable to find the wrapper ".https" - did you forget to enable it when you configured PHP? in
/home/klient.dhosting.pl/mkmmedia/nowa_kamienportal.pl/public_html/wp-includes/class-wp-image-editor-imagick.php
on line
138
Jak powstają najtańsze "umywalki z kamienia"? 
Jednym z kryteriów, które bierzemy pod uwagę podczas wyboru umywalek i innych elementów wyposażenia jest cena. To zrozumiałe, jednak niski koszt zakupu nie zawsze idzie w parze z jakością danego przedmiotu. Często jest odwrotnie – im tańszy produkt, tym niższy standard jego wykonania. Importerzy i producenci kamiennych umywalek stosują kilka metod, aby zaproponować nam produkt w jak najniższej cenie. Jednocześnie wpływają one na gorszą trwałość i estetykę armatury.
1. Import umywalek w formie mis, bez gotowego otworu odpływowego nawierconego przemysłowo. W tym przypadku otwór jest wykonywany ręcznie, przez co nie zawsze jest on usytuowany na środku niecki, bywa wywiercony krzywo lub nie zostaje wypolerowany. W konsekwencji:
⦁ woda nie spływa całkowicie i zalega przed korkiem odpływowym;
⦁ nie można zamontować odpływu;
⦁ niewypolerowana część kamienia chłonie wodę, przez co umywalka potrafi zwiększyć swój ciężar nawet dwukrotnie.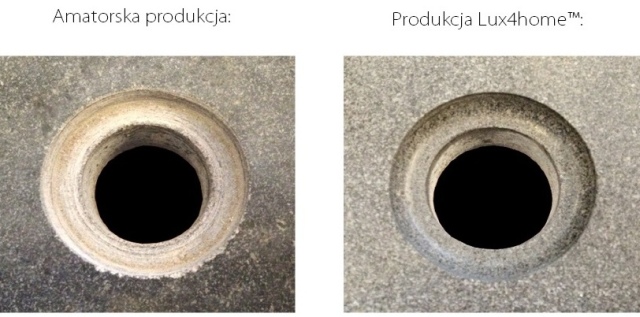 2. Lakierowanie/woskowanie zamiast polerowania. Dlaczego producenci sięgają po to rozwiązanie? Obróbka kamienia (w tym polerowanie) jest trudna i czasochłonna. Woskowanie lub lakierowanie bezbarwnym lakierem pozwala oszczędzić czas oraz środki. Przy tym efekt wizualny jest niemal identyczny, jak w przypadku polerowania. Jednak po kilkunastu miesiącach (zazwyczaj około roku) wosk spłukuje się a lakier pęka i odchodzi płatami, pozostawiając szorstką powierzchnię nienadającą się do użytkowania.
3. Barwienie/malowanie umywalek. To metoda najczęściej wykorzystywana w przypadku ciemnych i czarnych umywalek, które mają imitować ciemny marmur, andesyt lub granit. Umywalkę nasącza się barwnikiem, który z czasem wypłukuje się, odsłaniając jej prawdziwy kolor i strukturę. Wówczas okazuje się, że umywalka została wykonana z jaśniejszego kamienia lub tańszego betonu. W jaki sposób możemy się tego ustrzec? Wystarczy, że przed zakupem przetrzemy umywalkę wacikiem nasączonym np. zmywaczem do paznokci.
4.Szpachlowanie. Bywa stosowane w przypadku umywalek kamiennych II gatunku, które mają ubytki lub inne uszkodzenia powierzchni. Braki wypełniane są masą szpachlową bądź klejem, które po pewnym czasie użytkowania odpadają od umywalki, odsłaniając uszkodzenia.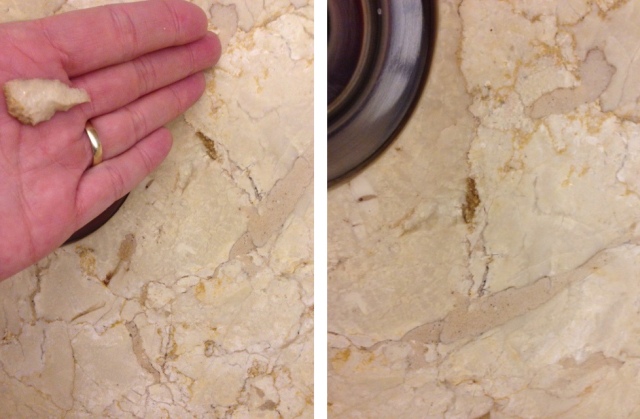 5. Stosowanie imitacji kamienia. Tanie umywalki, które sprzedawane są jako kamienne, niekiedy powstają na bazie zaprawy betonowo-klejowej barwionej farbą.
Inne trudności, z jakimi możemy spotkać się, jeżeli zaufamy okazyjnej cenie i niewyspecjalizowanej firmie to:
niewypoziomowana podstawa umywalki i brak możliwości spływania wody,
zbyt cienkie, pękające ścianki umywalki,
przeciekanie umywalki,
chłonięcie wody przez umywalkę, która w konsekwencji zwiększa swoją wagę kilkukrotnie,
kruszenie się umywalki: osypywanie się kawałków żwiru i piasku.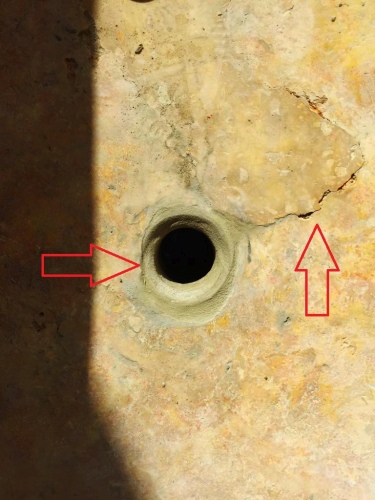 Jak wybierać kamienne umywalki?
Sprawdźmy, co należy wziąć pod uwagę podczas kupna umywalki z kamienia:
Posiadane atesty i znaki jakości. Upewnijmy się, że umywalka posiada atest Państwowego Zakładu Higieny, czyli dokument potwierdzający  bezpieczeństwo w kontakcie z żywnością i skórą. Atest oznacza m.in., że umywalkinie są nasączone szkodliwymi środkami, malowane, szpachlowane czy lakierowane. Innym ważnym potwierdzeniem rzeczywistej jakości umywalki  jest oznaczenie CE. Producent oznaczając swój wyrób znakiem CE deklaruje, że wyrób ten spełnia wymagania wszystkich odnoszących się do niego dyrektyw.
Długość gwarancji. Wysokiej jakości umywalki z kamienia są objęte nawet 5-letnią gwarancją. Tak długi okres jest dla nas wskazówką, że sprzedawca ma zaufanie do swojego produktu i nie obawia się udzielić wieloletniej gwarancji.
Specjalizacja sprzedawcy. Bezpieczniej jest kupować umywalki kamienne u sprzedawcy, który specjalizuje się w tego typu produktach i oferuje nam ich szeroki wybór (czasami umywalki kupowane są jako dodatek do pozostałych elementów wyposażenia w sklepie o innych profilu niż kamieniarski, gdzie oferowane są niesprawdzone produkty z importu).
Cena. Kamienne umywalki to produkt luksusowy, którego produkcja i transport wiążą się z dużymi kosztami. Większość umywalek z kamienia powstaje w Azji. Są wykonywane z trudnego w obróbce kamienia, polerowane, następnie dostarczane do Polski. W ich cenie musi zawrzeć się również wynagrodzenie dla wykonawcy, transport, cło, podatki i magazynowanie. Możemy sobie więc zadać pytanie, czy cena oryginalnej kamiennej umywalki może oscylować na poziomie ceny taniej umywalki ceramicznej?
Dostępność. Zweryfikujmy, czy sprzedawca posiada interesującą nas umywalkę w stałej sprzedaży/kolekcji. Jeśli widnieje ona w stałej ofercie lub katalogu,  mamy pewność, że w razie jej wady  możemy ją łatwo wymienić na inny egzemplarz.