Fot. MAISON VALENT​INA
Włoskie umywali wyróżniają się wyjątkowym stylem i oryginalnością zarówno w swej formie, jak i w sposobie łączenia kamienia z innymi materiałami. Są bardzo wyraziste i efektowne, dlatego zazwyczaj wykorzystywane są w przestronnych łazienkach, w których mogą zostać należycie wyeksponowane. Zobaczmy kilka interesujących przykładów włoskich umywalek z kamienia, dzięki którym łazienka przemieni się w elegancki salon kąpielowy.
Umywalka SYMPHONY. Brąz, mosiądz i inne stopy miedzi to "must have" aktualnych trendów aranżacyjnych. Wprowadzane są do wnętrz przede wszystkim w postaci dodatków, lamp i okuć mebli. Pięknie prezentują się również w projektach umywalek, czego doskonałym przykładem jest model SYMPHONY od MAISON VALENTINA. Zestawiono w nim marmurową misę (marmur Nero Marquina) z obudową z mosiądzu. To bardzo klasyczne i eleganckie połączenie. Mosiądz podkreśla szyk marmuru, a w zestawieniu z mosiężną armaturą stworzy harmonijny i stylowy zestaw.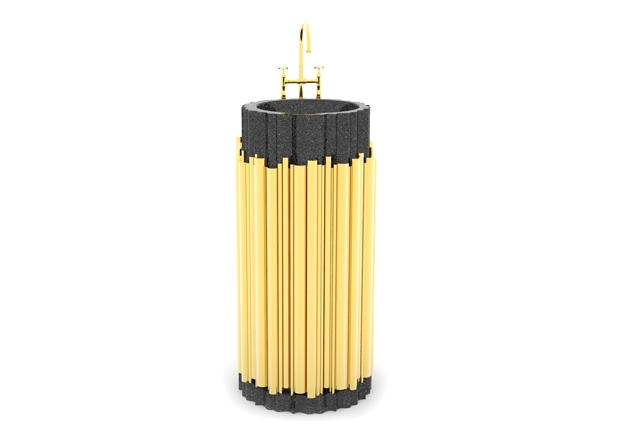 Wygląd obudowy umywalki SYMPHONY ma symbolizować muzykę oraz emocje, które ona wywołuje. Obudowa wykonywana jest ręcznie, co dodatkowo podkreśla jej wyjątkowy charakter.
Umywalka STONE DROPS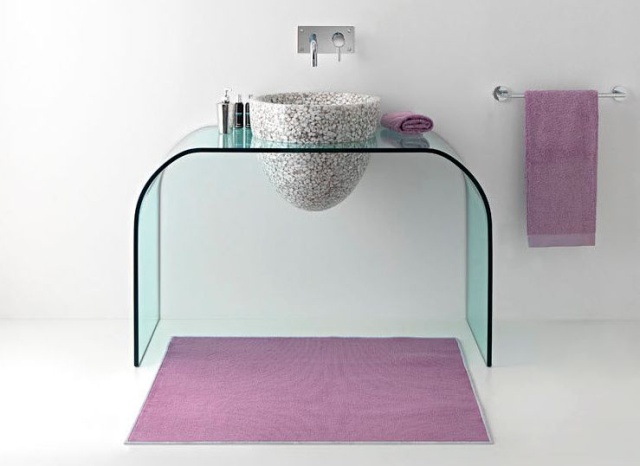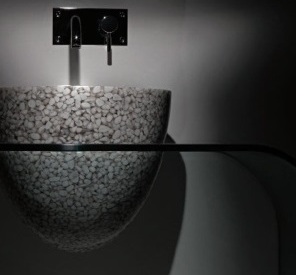 Umywalka STONE DROPS włoskiej marki Riverstone łączy tradycyjny kształt kamiennej misy z nowoczesną podstawą wykonaną ze szkła. Umywalka została zaprojektowana przez Vincenzo Bennardiego.
Lekka i dynamiczna w swej budowie podstawa ciekawie kontrastuje z masywną misą i równoważy jej zdecydowany wygląd. Ponadto kształt podstawy (m.in. brak zabudowania od frontu) oraz jej transparentność pozwala w pełni wyesponować wizualne walory misy.
Umywalka STONE DROPS jest wykonywana z kamieni i żywicy. Takie połączenie daje bardzo ciekawy efekt wizualny, ponieważ przeźroczysta żywica jest niemal niewidoczna i na jej tle każdy z kamyków staje się wyrazisty.
Średnica umywalki wynosi 46 cm, a wymiary podstawy to 116 cm długości, 56 cm szerokości i 70 cm wysokości.
Umywalka KOI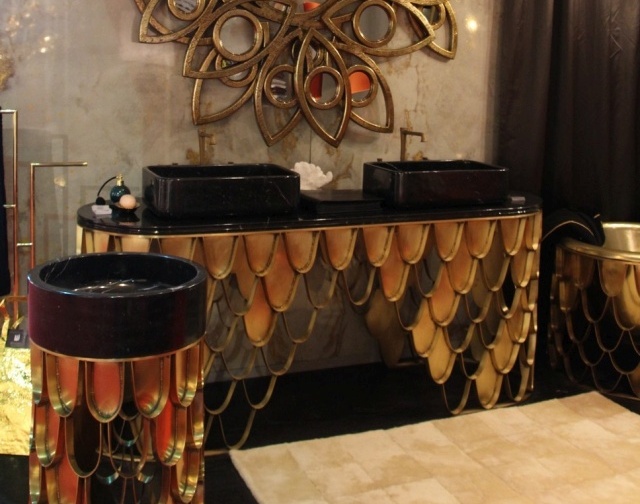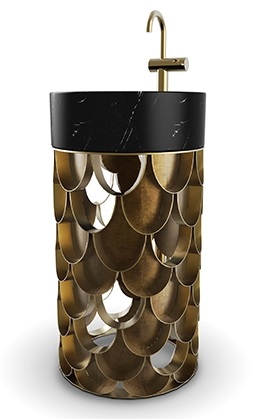 Umywalka KOI
powstaje z połączenia marmuru Nero Marqiuna oraz szczotkowanego mosiądzu. Nero Marquina jest jednym z najpopularniejszym gatunków tego kamienia. Dzięki klasycznemu połączeniu czarnego tła z delikatnym, białym użyleniem prezentuje się on wyjątkowo elegancko oraz dobrze komponuje się z różnorodnymi aranżacjami.
Powierzchnia kamienia jest polerowana, dzięki czemu utrzymanie go w czystości jest łatwiejsze niż w przypadku chropowatych faktur. Brak nierówności i szczelin na powierzchni umywalki sprawia, że osad z mydła i inne zanieczyszczenia nie mają możliwości wniknięcia w nią. Na życzenie klienta umywalka KOI może zostać wykonana ż z białego lub zielonego marmur.
Z marmuru wykonana jest misa umywalki, natomiast obudowę stanowi intrygująca kompozycja utworzona z kawałków mosiądzu. Nawiązuje ona do wzoru ubarwienia karpia Koi, który w kulturze japońskiej ma znaczenie symboliczne (oznacza m.in. miłość i przyjaźń).

Polecamy:
​​